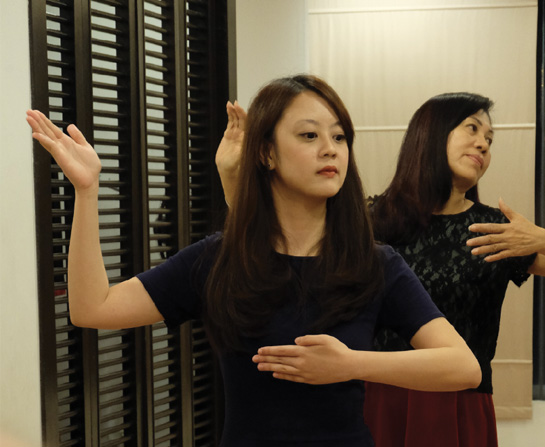 Words Hannah May-Lee Wong
It was a starry starry night when my fiancé, Vincent, and I, made our way to Shall We Dance studio in Petaling Jaya. This was our first time being taught dance (excluding a short stint in ballet when I was five years old). I have, however, heard many good things about dancing by doctors and colleagues alike, so I was excited to try it out for myself.
The studio was buzzing with life as the rooms were brightly lit and concurrent dance classes were going on. Our dance instructor and principal of the centre, Ivy Por, says night time on weekdays are their busiest times because that's when people get off work to come for classes. The place was clean, cosy, comfortable and inviting. Each room was equipped with smooth floors (for movement) and mirrors which extend from one end to the other so dancers can watch their steps and posture. As we were first timers, we didn't have dance shoes – we made do with socks.
Our one-hour lesson was all about the tango. Ivy later explains, "The tango, a dance originating from Argentina, has a feel of jealousy. Imagine this scenario: one lady, two men. Before the two men fight over the lady, a dance-off ensues. When the lady dances with one guy, the other guy tries to get her too. That's where you get the intense music and facial expressions. It is not an easy dance because there is a lot of contact between dance partners."
During the first part of the lesson, we learned the correct posture and how to step to the beat without music – there were quick steps and slow steps. For most of the dance, we were told to keep our knees slightly bent with one foot placed in front of the other, while the back remained straight. When we got the hang of it, we learnt how to do our steps with our partners.
Things got a little more interesting when we paired up to dance and the music came in. We moved to the beat using the steps we practiced earlier, leading up to the final beat where we had to hold a pose. I realized that the exercise really promotes good posture as you can't possibly hold a good pose while slouching. Before the final step, we had to turn our heads quickly from left to right, just like what you see in movies when couples tango. It was a whole lot of fun.
Vincent says:
Dance is something really new for me. The closest thing I have ever done is probably marching, when I was in the Persatuan Bulan Sabit Merah. Thankfully, Ivy was friendly and very encouraging.
The tango focuses a lot on posture and rhythm. The posture part was a little challenging as I tend to slouch throughout the day (especially when I'm on the computer at work). I imagine it must be quite hard to learn the tango without guidance or being taught the proper techniques. While learning as a group, I felt there was a sense of support and positivity from the other students as well. As everyone was learning together, it was motivating but relaxed at the same time. If anyone is interested in dancing, it will be worthwhile to take classes.
Dance, more than just entertainment – it's good for you!
Ivy Por
Principal, Shall We Dance Studio
How old are most of your students? Are they mostly couples or people who come in individually?
We used to cater only to adults. Most were between the ages of 20 to 40. But the trend has changed. Since opening classes for children, we now have more children learning than adults. Adults usually come individually for group classes. Couples tend to opt for private classes. We also train couples to do their wedding dance. Mixing more than one style of dance, for example, ballroom and hip hop, is quite popular these days. It's interesting to see the bride wear sport shoes underneath her gown.
At what age do people compete? Is it like other sports where you slow down by your mid-30's?
You can compete at any age, even from young. There are juvenile and junior levels, and it can go up to senior levels where some are in their 70's. Nowadays, kids start taking lessons very early on. I have classes for four year olds.
That's really young. How do you conduct classes for the little ones?
I introduce them to music and movement. They learn coordination by listening to the beat and moving accordingly. I also mix in some Latin dance and disco freestyle. At about five years old, they can pick up something that's a little more complex, for example, the Paso Doble, which is one of the Latin dances. It's a lot like marching, so they seem to really like it!
What kinds of dance do you teach, and which is the most challenging?
We teach ballroom, Latin, Zumba, hip hop, K-pop and belly dances. The most challenging would probably be the Viennese waltz and the foxtrot – both are ballroom dances. If you remember the movie Anna and the King or Cinderella, you'll notice the palace dances where the people twirl round and round. Those routines require lots of half turns as the male dancer leads. Lots of coordination is involved, coupled with the required speed. It takes a lot of mastery of technique.
Many of my new students come in wanting to learn the "princess dance". But I always tell them, "Yes, I can teach you, but you'll need to learn the waltz and other dances before I can teach you that." (Laughs cheerfully.)
Foxtrot is difficult because there's a lot of balancing. You've got to drag and hold the movement. Competitively, the slower dances are more difficult because it gives the judges plenty of time to spot mistakes. We use the rumba, one of the Latin dances, to train technique because a lot of technique is required.
Which dance do you think burns the most calories?
Zumba is probably the fastest way to burn off weight. There's a lot of jumping and hopping there. You also lose weight through ballroom and Latin, but it takes a longer time. Dancing helps to tone your figure. You get to train your core and the muscles on your legs will get shaped.
Any other health benefits of dancing?
Dancing improves blood circulation. It keeps you feeling youthful and fit. It's also good for memory as you need to remember your routines/choreography. That's why more and more seniors are taking up dancing – to keep them alert and their minds sharp. It's also good because it's a social activity. You'll have so much fun learning with a group of friends. After dancing, friends usually go out and have a meal together.
Dancing also greatly helps your posture. These days, more and more young people have bad backs and poor posture due to increasing time spent on the computer. I correct them when they dance. If bad posture continues as you get older, you might be more prone to getting a slipped disc and other kinds of back problems.
Dance is also good for your spine. My friend's niece had scoliosis. When her doctor was informed that she did ballroom dance, the doctor said that it was very good for scoliosis and that she should carry on. She had to stop many other types of strenuous exercises, but was encouraged to continue dancing. Ballroom dancing changes your posture by stretching your body to the right and to the left while trying to keep your spine straight.
How long would it take for a beginner to master a dance?
It normally takes eight lessons at the beginner level, but it depends on the group. Sometimes, slower learners might take up to 10 lessons. If the group is very quick, it could take only six lessons to learn a dance. Beginners almost always feel lost during the first four lessons. They are very likely to give up prematurely at this point. But if they persevere, by the fifth or sixth lesson, they will start to feel more comfortable.
If you like this article, do subscribe here.