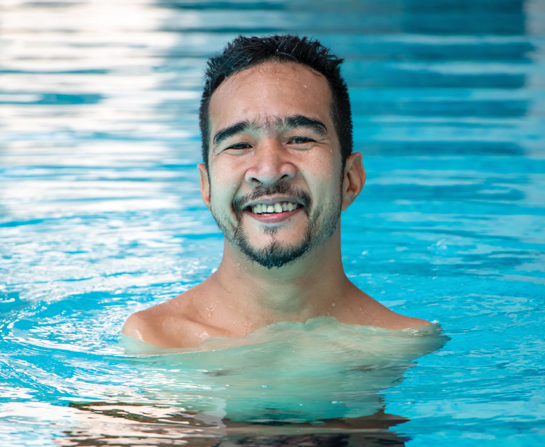 WORDS JENNIFER F. NETTO
Being motivated takes a lot of dedication and hard work, and to remain motivated in an ever challenging world can be quite a task, but that's not the case for Zhariff Afandi. While being in a position where life has challenged him from birth, Zhariff proves to the world that one can surf through life by focusing on what matters most regardless of your circumstances.
This psyched, upbeat, multiple award-winning entrepreneur, motivator, life coach, national youth icon and now author, has just released his latest book entitled, S.O.S, Surfing Out Stuff – a Book of Growth and Guidance, and HealthToday had the privilege to meet the man who steadily defied expectations to learn what inspired him to journey through the road he's taken and what makes him, him!
WE'LL START ON THE FUTURE AND WORK OURSELVES BACKWARDS IN ORDER TO UNDERSTAND YOUR BEGINNING – HealthToday WOULD LIKE TO KNOW WHAT ARE YOUR PLANS FOR THE FUTURE?
Well, at this very point in my life, my plans are to promote my book. I wish to promote the book to as many people as possible. I want to do more book tours locally, and overseas, and I would love to meet Oprah or Ellen, pass them my book and let the Universe take it from there.
WHAT BROUGHT YOU TO WRITING THIS BOOK?
Generally, I have always wanted to do a lot of things, but through all my to-do list, and new year resolutions, I have realised that it is best to focus on doing one thing at a time and doing what you love as well as loving what you do. I've done the rest so now, I've decided to embark on something new – getting published.
For the last 10 years, I have been giving talks and enrichment classes which were scaled out trainings, and signature programmes that ideally help people to discover the pathway to purpose – knowing one's inner self – the body, mind and soul. But on the other hand, I love writing and I love creating content for videos, photography, and for the shows, I hosted on television and radio. Being a published author was calling my name out loud!
I envision reaching out to as many people as possible, and I believe writing this book will help me achieve that to a greater extent. S.O.S is one of the four books which I plan to publish. I wanted it to be an easy read with the intention of my readers seeing clarity on the subject matter.
YOU'VE PLAYED MANY DIFFERENT ROLES IN LIFE – AN ENTREPRENEUR, MOTIVATOR AND LIFE COACH BEFORE ADDING AUTHOR TO THE LIST. COULD YOU TAKE US DOWN THAT ROAD THAT BROUGHT YOU HERE TODAY?
I was the Chief Marketing Officer of Hop-On Hop-Off for the last 10 years, and before that, I was the Chief Executive Officer of Gemilang Usahawan under the Malay Chambers of Commerce where I managed the Entrepreneurship Development Projects. Apart from the corporate roles I held, I was a big fan of humanitarian works hence the Zhariff Initiative which was aimed at community development involving youths. I also have a farm in Bentong, Pahang under the National Food Bank Program where we grow and rear food to feed the poor.
COULD YOU TELL US MORE ABOUT THE FOOD BANK PROGRAM?
The government introduced the Food Bank Malaysia Program with the aim of reducing the cost of living for those in the lower income group. It's a voluntary effort, so I decided to play a role in this by utilising my farm in Bentong to support this cause. My farm is new, just a couple of years old, and so my role here is basically coming up with the strategic planning and ideas and turning the ideas to reality.
WHERE DO YOU FIND THE SUPPORT TO DO ALL THIS?
The UNIVERSE! I believe the world has a way of aligning opportunities for us but if I should credit anyone, it would be my family, friends, mentors and teachers.
IS THERE ANY PARTICULAR PERSON YOU WOULD SAY WAS YOUR PILLAR OF SUPPORT?
My parents would be my core pillars of who I am today, their sacrifice and hard work have truly shaped me. My grandparents especially my two granddads also played a great influence on my life. One granddad was "Zen" and the other was "Flamboyant" – so I got the best of both worlds I should say. My grandmoms were supportive and amazing and one of them came for my book launch. Special credit also goes to Mr Raja Singham and BAC Education Group for the mentoring, resources and platform to let me grow my dreams, and last but not least, those who hindered in my succeeding – they too played a role in my success.
GROWING UP, DID YOU EVER ASK WHY YOU WERE BORN WITHOUT ARMS?
I did but the answers I got from my family were brilliant. I was raised to see the best in everything and everyone. Each of us has a purpose in life and a purpose for our existence, so it made no meaning for me to ask why I don't have arms. Rather, I would say "it never stopped me!". I had to think out of the box, be thick-skinned, be creative …
I've parasailed, I've zip lined, I've gone scuba diving, and yes, people doubted me, my capabilities and assumed my limitations made it impossible to do what I wanted to do, but guess what, I've done pretty well!
COULD YOU TELL US MORE ABOUT HOW YOU GOT YOURSELF THROUGH REGULAR SCHOOL?
My application was rejected by the school principal and when my mom told me that I was not allowed to get in, all I requested was for her to let me speak to the principal. I argued my reasons and the next thing I know, I'm in class and seated at a customised table made for me by my dad. The school rejected me because they thought I required a special school and that they didn't have the facilities to cater to my needs.
HOW WOULD YOU ENCOURAGE OTHERS TO COPE DESPITE THEIR OBSTACLES OR DISABILITIES?
Everyone faces obstacles and there will always be people who are better than us. We tend to get way too consumed with what we are going through, and sometimes we get so preoccupied to the point we forget to see what's right in front of us.
Personally, what has worked out for me are the things that I have the least worry about. When you work with no expectations, you will succeed.
Succeeding and wanting to be rich may not necessarily be the right approach for one, individually. So when I went through the process of writing this book, everything took its perspective. In a nutshell – if you want to be happy, stop chasing it – JUST BE! So my words of encouragement would be – don't get caught up with your aspirations and goals. It's best to just CHILL!
WHAT ASPIRED YOU TO BE A LIFE COACH AND MOTIVATOR?
I've always wanted to help people and I've always been intrigued by the powers of the human mind. I went into Social Science studies and finally graduated in Developmental Psychology from Griffith University. My expertise range between the human mind and society and my work revolves around the same thing – social work and campaigns.
TELL US ABOUT YOUR FAMILY
I'm the eldest of three. Mum is in accounting and dad is an architect. I have a daughter and an ex-wife. My grandmothers are still very much involved in my life, one is 102 years old and the other, who was here for the book launch is now 91. 
DOES FAMILY PLAY A BIG ROLE IN YOUR LIFE?
As I grew older, I began appreciating family more and I long for the time with my elders. Marriage was interesting, tried to make it work but we were courageous to admit that we were better apart, however, I got a beautiful amazing daughter from it. So yeah, family will be family, and unfortunately, families break, families die, families fall-out, that's reality and we just make the best out of it.
WHAT IS YOUR TAKE-HOME MESSAGE FOR HealthToday READERS?
Life is good, life is great.
There's a lot to look forward to in life.
It's not easy, there will be a lot of failures and a lot of challenges that will come your way but at the same time, the opportunity to live a good life is a choice and it's there.
There are no shortcuts to being the most authentic you – so the real you doesn't just happen. You need to plan, you need to draw a map of what you want to be, and how we think shapes us, our behaviour.
The inner-self, the spirit and soul need to be nurtured too, therefore you will need to find your path and journey it to its fullest. So just take a step and BE! Always have love as an anchor! Love does suppress all negative things. HT
If you like this article, do subscribe here.