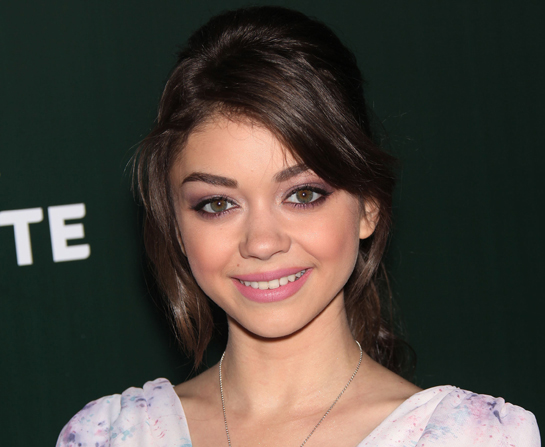 Sarah Hyland might seem like a new kid on the block with sparkly eyes that adorn her young appearance but this petite young lady is one-short-candle away from entering the big THREE-O. Sarah Hyland is America's sweetheart, but life has taken quite the twist-and-turn on her off-screen presence.

Early Years to Stardom
Hyland was born in Manhattan on the 24th of November 1990, to parents Edward James and Melissa Canaday who were no strangers in the acting world. Like most children of Hollywood celebrities, Hyland's fame came early. She was only seven when she first landed her acting gig for the film Private Parts. But this alumna of the Professional Performing Arts School of New York went on to act in even bigger roles in the movies Annie and Blind Date.
However, her popularity soared when she took on the role of Haley Dunphy in ABC's longest running, Emmy-award winning comedy, Modern Family. The show was recently renewed for its 11th and final season in January this year. 
To date, Hyland has acted in close to twenty films of which she was Executive Producer of a few, thirty-odd television shows, and six music videos, and has a net worth of 9 million on her name. She has won the Screen Actors Guild Award, Teen Choice Awards, Critics Choice Television Award, and Glamour Awards between 2011 and 2014 as Haley in Modern Family.
The Tender Road
While her fame as an actress started when she was young, the pain of dealing with kidney dysplasia begun at birth for her. Hyland's kidneys did not develop properly in her mother's womb and they never functioned well. Kidney dysplasia, which is sometimes called multicystic dysplastic kidney, is a condition that occurs in the womb when one or both of a baby's kidneys does not develop correctly and fluid-filled sacs (cysts) grow in place of normal tissue. It is the most common type of pediatric renal cystic disease, occurring in approximately 1 of every 4,300 live births, according to Children's Hospital Boston.
The causes of these cases vary. According to the U.S. National Institute of Diabetes and Digestive and Kidney Diseases (NIDDK), kidney dysplasia may be related to a mother's exposure to certain prescription medications or illegal drugs, such as seizure medication, ACE inhibitors for blood pressure, and cocaine, while in other instances, the cause may be genetic. NIDDK also reports that kidney dysplasia appears as a dominant trait, therefore, either parent could pass it on, even if he or she shows no symptoms.
Many children who are diagnosed via ultrasound, grow up without any health problems and require no treatment. Others, like Hyland, aren't so lucky. In addition to pain and fatigue, the symptoms and complications of kidney dysplasia may include urinary tract problems, high blood pressure, and a slightly increased risk of kidney cancer. A more common problem is the risk of damage to the healthy kidney because of issues with the affected kidney. Some children may develop chronic kidney disease or kidney failure, for which they'll eventually need dialysis treatments or a transplant like Hyland.
A Second and Third Chance at Life
Treatments prevented kidney failure through her childhood but when Hyland turned 21, it took a turn and she required kidney transplant due to total kidney failure. According to the United Network for Organ Sharing Kidney, transplants are in increasingly high demand in the US and the waiting list includes more than 90,000 people in which fewer than 17,000 of whom will be lucky enough to actually receive a kidney within a year. Hyland was fortunate to find a willing and compatible donor in her father, but sadly, after an excruciating experience of kidney rejection five years later, Sarah required a second transplant. She was forced to be in and out of dialysis for 12 hours each week to assist her in maintaining her health. Unfortunately, all that hard work led her to need another match and she did ­– this time it was her younger brother'.

In Between Pain and Fame
Juggling chronic pain and long hours of dialysis in between filming was not an easy feat for Hyland, as she openly revealed in many interviews on television and magazines across America. She had to constantly hide her discomfort from the camera and get into work even at her lowest points. According to her video post on social media, Hyland experienced suicidal feelings due to guilt caused by the rejection of her body to her father's kidney as well as fears of another rejection.
But Hyland reached out to someone close to her and disclosed her feelings. She emphasised in her interview with Ellen DeGeneres that it's not shameful for anyone that wants to reach out to someone but doesn't really know how because they're too proud or they think that they'll be looked upon as weak, it's not a shameful thing to say and share and she encourages everyone who feels even an ounce of suicidal thoughts to seek the help of someone and to tell it out loud for help.
On top of these serious kidney issues, Hyland also has endometriosis and underwent laparoscopic surgery to address it. A few weeks after the endometriosis surgery, she then had surgery to repair a hernia. In total, Hyland has had 16 surgeries.

An Inspiration 
Apart from acting, Hyland is also a youth ambassador with the Lopez Foundation, an organization created by actor George Lopez to serve underprivileged children and to raise awareness about kidney disease and organ donation. Lopez, like Hyland, is an organ recipient himself — one of many on a list that includes Gary Coleman, Natalie Cole, Neil Simon, and Tracy Morgan.
Hyland's new year wishes for 2018 was nothing short of an inspiration to her beloved fans, who many like her, struggle with kidney disease. Her openness about her struggles connected with many, and it helped justify that their pain is real despite the front they give to others. Sarah is grateful to her family and friends, and the love of her life, Well Adams, who stood by her and saw her through her most fragile moments. "I believe if he had seen me in my lowest point and stood by me, then he accepts me for who I am, that I am still loveable and beautiful in his eyes!" Sarah shared on DeGeneres's show.
With the filming of the new and final season of Modern Family, and a third chance at life, we wish the award-winning Sarah Hyland all the success and may she continue to be an inspiration to those who struggle like her with a message of hope that you can strive to be the best, regardless. HT
References:
https://www.refinery29.com/en-us/2018/12/219070/sarah-hyland-kidney-transplant-dysplasia
https://www.ranker.com/list/sarah-hyland-loves-and-hookups/celebrityhookups
https://www.youbeauty.com/beauty/sarah-hyland-qa/
https://www.everydayhealth.com/healthy-living/0516/behind-sarah-hylands-kidney-dysplasia-diagnosis.aspx
https://www.kidney.org/atoz/content/about-chronic-kidney-disease
https://www.kidney.org/newsletter/modern-family-star-opens-up-about-kidney-disease-transplants
https://en.wikipedia.org/wiki/Sarah_Hyland
https://www.today.com/health/sarah-hyland-reveals-2nd-kidney-transplant-i-was-contemplating-suicide-t144840
https://www.self.com/story/sarah-hyland
https://www.bustle.com/p/sarah-hyland-wells-adams-relationship-timeline-zooms-in-on-their-social-media-meet-cute-15519571
https://en.wikipedia.org/wiki/Modern_Family#Themes
If you like this article, do subscribe here.