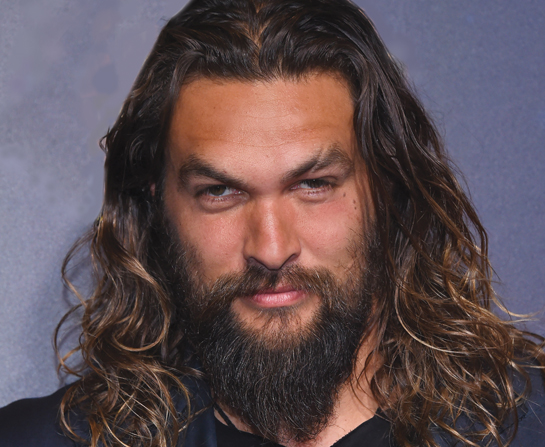 WORDS HANNAH MAY-LEE WONG

He's tall, dark, scruffy and good- looking. Standing at 6ft 5in with a great build, Jason Momoa is certainly a physical specimen to behold. While some may remember him from popular TV series such as Baywatch: Hawaii, Stargate Atlantis or Game of Thrones, in December, he showcases his biggest role yet as Aquaman.
BORN BY THE WATERS
Jason Momoa, 39, was born in Honolulu, Hawaii to Coni and Joseph Momoa. His mother, who was an artist, raised him as a single mother in Iowa, USA. While growing up in the Midwest, Jason recalled his mother introducing him to skateboarding, rock climbing, painting and music – hobbies he still carries with him to this day.
While growing up, Jason had never imagined himself as an actor. "Everyone thought I was crazy, but I wanted to write, direct and produce movies. I didn't want to act… I love telling stories. I might not be right for the story – I have a particular look, and sometimes I fit and sometimes I don't. I like being a part of the whole process, not just doing my acting job and leaving," he revealed in an interview with Entertainment Weekly. His dream came true in 2014 when he directed and co-wrote Road to Paloma (2014), a film he also starred in alongside his wife Lisa Bonet (famous for playing Denise Huxtable in The Cosby Show).
AQUAMAN'S MOM'S FROM ATLANTIS, AND HIS DAD'S FROM EARTH. IT'S SOMETHING THAT I RELATE TO GROWING UP HALF HAWAIIAN IN IOWA, RAISED BY A SINGLE MOTHER.
Before breaking into bigger roles such as Khal Drogo from Game of Thrones and Aquaman from Justice League (2017), Jason got his start in acting when he was just 19 years old. He was cast as Jason Loane in Baywatch Hawaii from 1999 to 2001."I got my start on Baywatch, which was very crazy because I was just a college student in Colorado. I was on vacation, getting to know my father better and the TV show came. I was 19, running around with no clothes on and saving people. But it gave me my passion for acting," Jason recalled in a radio interview. "It led to getting no respect for about four years and I couldn't get an agent to save my life. I just became a rock- climbing bum and spent the little money I got from Baywatch to travel the world," he said laughingly.

CONQUERING LAND, SHORE AND SEA
With a true affinity to the sand and sea, in 2004 Jason was cast in the American soap opera North Shore – a drama that revolved around the happenings in an exclusive Hawaiian resort located on Oahu's north shore. Interestingly, Aquaman wasn't the first film in which Jason stepped foot into the fictional lost city of Atlantis. Moving on from North Shore, the actor starred in Stargate Atlantis, a sci-fi space adventure series, where he played Ronon Dex, a soldier from the planet Sateda.
In 2011, Jason starred in his first leading role as Conan in Conan the Barbarian, a reboot of the original 1982 movie starring Arnold Schwarzenegger. The role was the starting point for more roles as savage, bloodthirsty warriors. His big break came when he got the role of Khal Drogo in HBO's hugely popular Game of Thrones.
Jason remains a big fan of the books and continues to follow the show even though his character had left the series years ago. Although Khal Drogo was a significant character – being the leader of the Dothraki tribe of warriors – his spoken lines were limited and only in the Dothraki language (which sounds like a cross between German and Arabic). Jason famously won over the casting crew by performing the Haka (a ceremonial warrior dance in Maori culture) for his audition. Explaining his bold move, he told the New York Times, "On Game of Thrones, Drogo doesn't say much. So how do you convey him? There's nothing in the script. Then I did the Haka. It was challenging to do the audition… I couldn't stop my heart from beating."
Moving on from the series, Jason played the main character Declan Harp in the Netflix series Frontiers, a show about the North American fur trade in the 1700s. He also served as executive producer for the series. He light- heartedly described the show in a nutshell: "It's basically me, wrapped in fur, covered in blood, killing Englishmen." The series revolves around Declan Harp who is half-Irish, half-Cree. He sets out to avenge his family by going against a British company which dominated the fur trade in Canada. The third season of the series just premiered on Netflix on November 23.
THE JOURNEY TO ATLANTIS
Take a quick glance through his Instagram page @prideofgypsies and you'll very quickly realise that at the heart of it, Jason is a family man. He has described his wife and kids as the loves of his life and when he's not filming, he often posts pictures of fun times outdoors with his two children. Aquaman was a particularly exciting role for him because unlike most of his other work, Aquaman is a comic book movie and suitable for kids.
Jason joked that prior to getting the role of Aquaman, his most recent notable work was in Game of Thrones and he struggled to get auditions after his very convincing portrayal of the barbaric warlord, Khal Drogo. "Not a lot of people know I spoke English, it was very challenging. That whole audition process was pretty crazy. Zack (Synder) was a huge fan of Game of Thrones… and he called me in. It was funny because I had no idea who I'm going to be playing. I had auditioned but it was for Batman and obviously Ben was cast… I thought I'm going to basically be the bad guy, I'm going to fight Batman and Superman, I'm going to play the villain. And then he said no – Aquaman." And the rest is history.
Jason's portrayal of the king of the seven seas appeared in both Batman v Superman: Dawn of Justice (2016) and Justice League (2017) where he appeared alongside Wonder Woman, Batman and Superman.
Aquaman is a character Jason very much related to, coming from  a mixed background. Aquaman, also known as Arthur Curry, is half- Atlantean half-human, raised by his single father who was a lighthouse keeper. He said in an interview, "Aquaman's mom's from Atlantis, and his dad's from earth. It's something that I relate to growing up half Hawaiian in Iowa, raised by a single mother. I was definitely not like everyone there, and he (Aquaman) isn't really accepted in either world. There's a lot of people who can identify with that."

WORKING FOR THAT AQUAMAN BOD
Who knew superheroes share the same trainer? Jason worked extensively with Mark Twight, who also was the trainer of Henry Cavill for Superman: Man of Steel. Due to Jason's hectic schedule, Twight had to veer away from the highly organised fitness routines he is used to, changing it to a more flexible schedule based on deadlines. When Jason had an intense fight scene or shirtless scene coming up, they would amp up the workouts.
It probably helped that Jason was in pretty good shape to begin with. He is an avid rock climber and requested to incorporate the sport into his bodybuilding routine. Hence, Twight worked out a balance of weight training and indoor rock climbing two to three days a week. With the physical demands of this difficult combination of exercise, Jason was aided with a massage therapist (to manage recovery and injury prevention) and a chef.
Jason is such a big fan of Guinness, he has two customized signature brews to his name. To allow him the freedom to have his usual pint or two, his trainer devised a suitable diet. Twight said in an interview on Men's Health, "I would restrict solid carbohydrates unless needed to fuel a particularly intense day of training or recovery. I would observe, and count, and interview, and then have the chef adjust total calories and macros (proteins, carbs and fats)."
As for the workout, Twight said, "We took a simple approach to balancing weightlifting with climbing: we didn't fatigue the muscles used for climbing (back, biceps and forearms) the day before hitting the rock gym. Instead we trained back and biceps after climbing to overload them. This freed other days to focus on chest, shoulders and legs." Jason's workout regimen featured bench presses, dumbbell presses, push ups and lots of weight lifting for bodybuilding. As for leg days, he did rounds of sled push and pulls, quad extensions, lunges and splits.
Catch Jason Momoa as Aquaman in cinemas from December 13. HT
If you like this article, do subscribe here.