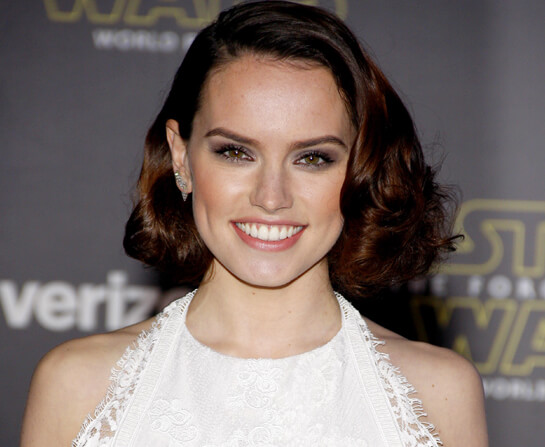 WORDS LIM TECK CHOON
The 27-year-old star of the newest Star Wars trilogy opens up about life under the spotlight and coping with endometriosis.
Daisy Jazz Isobel Ridley was born for the limelight. When she was a young girl, the English actress would watch Matilda over and over. The titular character was intelligent, feisty, and brave in face of adversity—a character that Ridley aspires to emulate.
As she was a rambunctious child, her parents eventually encouraged the 9-year-old to audition for the prestigious Tring Park School for the Performing Arts. To her parents' delight, Ridley was given a full scholarship.
Hence, Ridley's extensive repertoire of abilities included dancing, singing, and of course, acting. Shortly after graduation, she hoped to pursue a full career in entertainment. Like most aspiring actors, she paid her dues by appearing in short films as "Girl", "Waitress", and other characters that function only as filler in her CV. Between auditions, she would take up bartending jobs.
A Rey of Light
It all began with a casting call for an athletic female. Ridley wasn't a particularly big fan of Star Wars at that time, but she had a good feeling about the casting call and asked her agent to arrange for an audition before JJ Abrams, the director and producer of the new Star Wars trilogy.
Abrams recalled in an interview with Mashable how he was blown away by Ridley's expressiveness and range. After a few rounds of audition, there was no doubt that Ridley would be perfect as the role of Rey, a feisty orphan whose origins hold parallels to that of Luke Skywalker.
Force and Empowerment
Ridley is especially humbled by being part of a new generation of actresses taking on prominent roles of independent, strong female characters in popular culture. Rey is an inspiration to young women worldwide, and Ridley uses this opportunity to encourage her female fans to aim high and never let antiquated gender stereotypes and glass ceilings hold them back from reaching their dreams.
She is especially blessed to have formed strong relationships with the late Carrie Fisher and Kathleen Kennedy, the president of Lucasfilm (the production company that creates and produces the Star Wars movies and TV shows).
Kennedy is the driving force behind the introduction of more diversity and inclusivity into the Star Wars media, and she was the perfect mentor for Ridley.
Meanwhile, Fisher—who would forever be remembered as Princess Leia—helped Ridley navigate the turbulent currents of fame. No doubt Fisher saw a younger version of herself in Ridley, as she left the younger actress plenty of advice on how to still be true to herself despite having found fame. One advice that resonated with Ridley is to let private details of her life remain private. Is she seeing anyone currently? Her answer will always be: "I'm not saying!"
OPENING UP ABOUT ENDOMETRIOSIS
Unknown to many, Ridley was diagnosed with endometriosis when she was 15. She also suffers from anxiety, and because anxiety and stress can worsen her endometriosis, Ridley grapples with her condition even as her fame soars.
"I was in my flat going nuts, and then my skin got really bad with the stress of it all, and I hadn't been well—I had holes in my gut wall and stuff—and we were trying to figure out what to do with that because I'd felt poorly," she revealed in an interview with Elle.
That happened while she was grappling with her newfound celebrity after the release of Star Wars: The Force Awakens— the film that introduced her to the rest of the world. Her symptoms became so severe that she had to move into her sister's house to recuperate.
In 2016, 1 year after Star Wars: The Force Awakens was released and made over US$2 billion worldwide, Ridley shared with her fans on her now-deleted Instagram that she was making good progress with her health. She also revealed that she was diagnosed to have polycystic ovaries, but she assured her followers that, thanks to dietary adjustments, good self-care and medical advice, she is doing fine.
On her Instagram, she shared that she had cut out dairy products and sugar from her diet, although she admitted that she helps herself to an ice cream occasionally (but not too often) as a treat to herself. She also works closely with a dermatologist for her skin problems as well.
"To any of you who are suffering with anything, go to a doctor; pay for a specialist; get your hormones tested, get allergy testing; keep on top of how your body is feeling and don't worry about sounding like a hypochondriac," Ridley urged. "From your head to the tips of your toes we only have one body, let us all make sure ours is working in tip-top condition."
"FROM YOUR HEAD TO THE TIPS OF YOUR TOES WE ONLY HAVE ONE BODY, LET US ALL MAKE SURE OURS IS WORKING IN TIP-TOP CONDITION"
An Explanation on Endometriosis
Someone with endometriosis has tissue similar to that found in the innermost layer of the uterus (endometrium) growing in areas outside of the uterus, such as the fallopian tubes, ovaries and the tissue lining the pelvis. Sometimes, the endometrial tissue can spread further than the pelvis, although this is rare.
The endometrial-like tissue will thicken and break down during each menstrual cycle. This tissue is trapped in the body, causing surrounding tissue to become inflamed, scar, or adhere abnormally. If endometriosis occurs in the ovaries, cysts can form, affecting the ability of these organs to produce a viable egg cell for fertilization.
The affected person is likely to experience pain during her period. She may also experience fertility issues.
If you like this article, do subscribe here.
References:
Bryant, K. (2017, October 11). How Daisy Ridley deals with Star Wars fame: Therapy and calls with her mom. Vanity Fair. Retrieved from https://www.vanityfair.com/style/2017/10/daisy-ridley-the-last-jedi-vogue-cover.
Clarke, J. (2017, December 28). Feel the force: Daisy Ridley covers ELLE's January issue. Elle. Retrieved from https://www.elle.com.au/celebrity/daisy-ridley-elle-cover-january-15380.