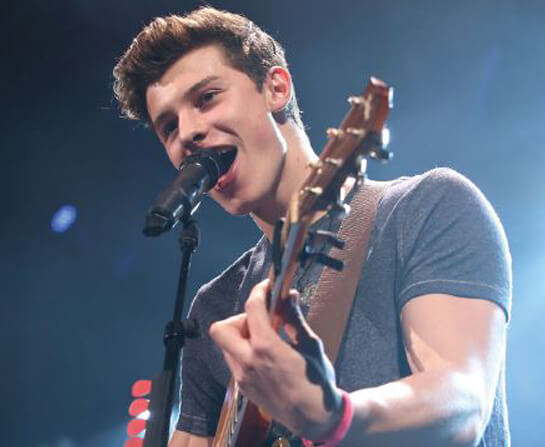 WORDS HANNAH MAY-LEE WONG
This month, we shine the spotlight on Vine star turned pop-icon: Shawn Mendes.
This young man may have only just turned 21, but Shawn Mendes has been dominating music charts all over the world for years now. His latest selftitled hit album, Shawn Mendes earned him four number one spots on the Billboard pop song charts just before he turned 20 last year—making him one of the hottest, youngest and most influential artists in the current music scene.1
From the vine
Shawn Mendes was born in Ontario, Canada to parents Karen and Manuel Mendes. Having a strong interest in music, he picked up the guitar by watching and learning from YouTube video tutorials. Soon after, at the tender age of 15, Shawn started his Vine channel, where he uploaded 6-second videos of himself singing cover songs from his favourite artists. Needless to say, the talented teen became an overnight sensation after uploading his first video—a cover of 'As Long As You Love Me' by Justin Bieber. Through this very upload, he gained 10,000 likes and followers, and continued to grow his online fanbase till he had millions in followings. The next year, he was signed on to a record label and released his first extended play (EP) album. Since then, he's been nominated for a couple of Grammy awards and has won a two AMAs (American Music Awards).
Shawn's mega-successful career isn't only confined to music. Standing 6ft 1", the singer who's blessed with good looks and amazing hair also has a thriving career in modelling. He has posed for top tier fashion brands like Emporio Armani® and Calvin Klein®, and he even occasionally makes an appearance on the runway.
In his blood
Although on the surface, Shawn Mendes may seem like he has it all. But fame and success at such a young age has its challenges, and it's never easy. Shawn recently revealed that the lead single 'In My Blood' from his latest album is about his personal struggle with anxiety.
Dealing with anxiety
In an interview with Zane Lowe, Shawn revealed that his anxiety came unexpectedly: "Growing up, I was a pretty calm kid. I knew people who suffered from anxiety, found it kind of hard to understand, and then when it hits you, you're like, 'Oh my god, this is crazy.'2
On dealing with anxiety, Shawn confesses in an interview with Wonderland magazine, "Sometimes it's not about seeking help and getting a therapist… The hardest thing to do is accept what's going on and the human mind has this funny thing where if you acknowledge that something is wrong, sometimes it works towards helping you instead of going against you. Just talking to friends and family and talking to people, becoming more open and vulnerable with everything that's going on in my life  it's really hard at first, but ultimately it made things easier for me."3
Seeking support from friends and family
The singer noted that he had spoken to a therapist a couple of times, but he stresses that self-care, exercise and staying connected with loved ones has helped him tremendously. He tells in an interview with The Sun, "Therapy is what works for you … Therapy is listening to music and running on the treadmill, therapy is going to dinner with your friends—it's something that distracts you, that helps you heal and so it just depends on what you think therapy is."
He continues, "People forget how important it is to talk to your family and to talk to your friends about what's going on in your life, because the more you tell people how you feel, the more you understand how you feel and you have more control of your emotions."
The singer confesses that his anxiety episodes are very random, and they tend to hit him at moments when least expected. Despite his struggles, he assures his fans that all pain is temporary. "Sometimes it lasts 2 hours, sometimes it lasts a day and sometimes it lasts 5 minutes. The point of the song is that no matter how long that lasts, you can come out the other end stronger and you come out of the other end always." As the song 'In My Blood' ends, Shawn sings that giving up isn't in his blood, and then concludes with an encouragement to his fans that he will be okay.
Shawn on spreading good vibes
Shawn Mendes doesn't only send out positive vibes to the youth of today through his music. The star supports various philanthropic initiatives, many of them focusing on mental health and environmental issues.
In 2014, Shawn launched the 'Notes from Shawn' campaign, in collaboration with DoSomething.org. It was an initiative aimed at combating low self-esteem and self-harm, by spreading handwritten notes of love and positivity. The initiative was inspired by the lyrics to his song, 'Life of the Party', where he addresses mental health issues such as low self-esteem, self-harm and depression. Shawn encouraged his fans to write messages that would put a smile on someone's face (like "you're awesome" or "you rock") and those messages were to be left at random places. The goal? To help people who might be having a rough day feel better. According to the campaign, receiving positive messages is said to help improve self-esteem and decrease thoughts of self-harm.4
Shawn also recently launched The Shawn Mendes Foundation. He announced on his Instagram, which boasts more than 52 million followers: "For a long time, I've wanted to find a way to amplify the causes that my fans care deeply about, and to further help them make their voices heard. Our generation has the power to change the future of our planet, and to help carry that change forward for so many generations to follow. With that, I'm so excited to announce the launch of @ShawnFoundation, to support causes that are important to my fans and our generation. I will work alongside my fans to help provide them with a platform and the means to give back and take action." Among the first initiatives by Shawn's foundation was taking measures to lessen the environmental impact and carbon footprint of his 2019 tour.
A man on the move
Shawn is currently enjoying a growing popularity on the radio. His newest singles: 'If I Can't Have You' and 'Señorita', a duet with his sweetheart, Camila Cabello are topping music charts all over the world. Going full speed ahead, Shawn Mendes is touring the world, making stops in Asia, South America and Australia to promote his latest self-titled album. We wish Shawn only the very best, and hope he enjoys seeing the world while he's at it. HT
"Our generation has the power  to change the future of our planet, and to help carry that change forward for so many generations to follow." -Shawn Mendes
If you like this article, do subscribe here.
References:
1. Billboard. Shawn Mendes Is the First Artist to Land Four No. 1s on the Adult Pop Songs Chart Before Age 20. Retrieved from https://www.billboard.com/articles/ columns/chart-beat/8467895/shawn-mendes-first-artist- to-have-four-no-1s-adult-pop-songs
2. Billboard. Shawn Mendes Opens Up to Zane Lowe About New, Emotional Track 'In My Blood'. Retrieved from https://www.billboard. com/articles/columns/pop/8257557/shawn-mendes-zane-lowe-in-my-blood-interview
3. Wonderland. Shawn Mendes. Retrieved from https://www.wonderlandmagazine. com/2018/06/15/shawn-mendes-2/
4. Seventeen. Join Shawn Mendes to Combat Low Self-Esteem & Spread LOVE! Retrieved from https://www.seventeen.com/celebrity/a24633/ shawn-mendes-do-something-notes-from-shawn/