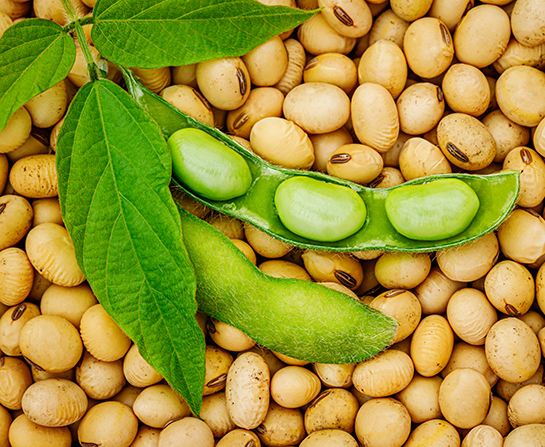 When you hear the word "protein", what is the first thing that crosses your mind? Most people would associate protein with foods like chicken, beef or fish and how it functions to build our muscles. But protein is so much more than that. Protein is the building blocks of life! In fact, protein is the second most abundant compound in the body after water. It is a type of macronutrient that is essential at every stage of life and serves many important roles in our body. 
Interestingly, despite the important roles that protein play, the Herbalife Nutrition Asia Pacific Nutrition Myths Survey 2020, indicated that up to 37% of Malaysians believe that our body requires less protein as we grow older. This shows that many still have mixed misconceptions about protein. This article aims to shed light on protein, especially concerning soya, which is also a substantial source of protein in our diet.
DEBUNKING THE SOYA MYTHS
MYTH: ALL SOYA PRODUCTS ARE MADE FROM GENETICALLY-MODIFIED ORGANISMS (GMOS)
Not all soya products are made from GMOs. Various non-GMO tofu, tempe, and soya milk are widely available in the market. And even if the product has GMO-origin, there is currently no clear evidence that eating GMO soya beans or products would have any adverse health effects.
MYTH: EATING SOYA INCREASES THE RISK OF BREAST CANCER
This saying came from the belief that isoflavones (plant oestrogens) found in soy can increase the risk of cancer.  Studies have shown that soya isoflavones, regardless of the source, do not exert any harmful effect on breast tissues. On the contrary, high intake of soya may actually decrease the risk of breast cancer. A prospective study on 300,000 Chinese women and meta-analysis of dose-response showed that a higher soya intake may in fact provide considerable benefits for the prevention of breast cancer.
MYTH: SOYA PHYTOESTROGENS INHIBIT THYROID FUNCTION
Various studies and comprehensive reviews have actually showed that neither soya foods nor isoflavones have any adverse effect on thyroid function in men or women with normal thyroid gland function. Plus, European Food Safety Authority has also concluded that isoflavones do not adversely affect the breast, thyroid or uterus functions of postmenopausal women.
MYTH: SOYA CAUSES MEN TO BE MORE FEMININE
Extensive reviews have indicated that consumption of soya proteins or isoflavones has shown no effect on male reproductive hormone levels in the body.