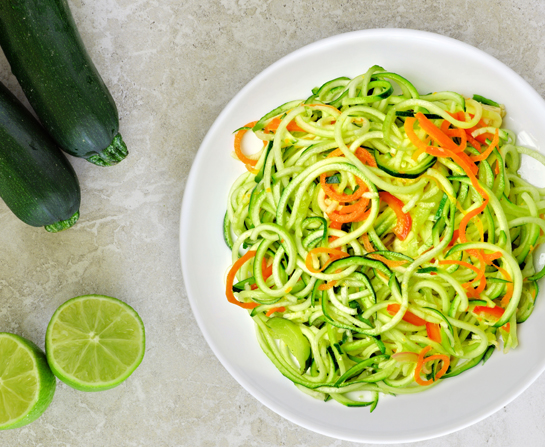 Most of us these days are either trying to maintain a healthy weight or to lose some weight. Unless you are one of the few lucky ones, chances are, it is not easy to keep those unwanted kilos away.
One big reason for this is our diet. Aside from rice, we also love our noodles. Noodles such as bihun seem like a "lighter" fare than rice, but they are actually packed with carbohydrates in the form of starch. Most noodles are made from white flour and may contain gluten. While we are not saying that noodles are bad, if you are trying to keep a healthy weight, all those noodles you eat for lunch, dinner or in between meals are going to add up, especially on your waist and thighs.
Fortunately, we have zoodles!
Zoo… what?
The word "zoodles" is coined from the words "zucchini" and "noodles". Yes, we are talking about noodles made from zucchini. Zoodles have been the trendy choice for health-conscious people since the last few years.
Five Good Reasons for Zoodles over Noodles
Unlike noodles, zoodles are rich in nutrients aside from carbohydrates. They are a very good source of dietary fibre, vitamin C, vitamin K, riboflavin, vitamin B6, folate, magnesium, potassium and manganese.
They are low in saturated fats and salt.
Zoodles are a great way to add more vegetables into your diet. Try offering zoodle dishes to kids who resist eating vegetables in their normal form.
Zoodles are a great substitute for noodles in your favourite meals, so you can still enjoy your "pasta" and "noodle soup" while cutting down on carbs and upping your nutrients and dietary fibre. It's a win-win situation.
If you are too lazy to steam the zoodles, you can enjoy them raw.
It's easy to make
You can use a mandolin slicer or a vegetable slicer to create your own zoodles. These days, however, there are fancier slicer devices with names like spiralisers and zoodle makers available in stores, making it easier and faster to fill a bowl with healthy zoodles.
If you prefer other vegetables to zucchini, you can try making other versions of zoodles with cucumbers, squash, carrots and other firm vegetables.
Zoodles in 5 Simple Steps  
For 1 serving, use 1 medium zucchini.
Wash the zucchini. You can keep the skin, or peel for a more "noodle-like" colour.
Line a bowl with a cloth and put your preferred zoodle-making device to good use.
Add a pinch of salt, and then wrap the cloth around the zoodles.
Let the zoodles stand for about 15 minutes to allow excess water to seep out. Squeeze cloth gently to remove this excess water.
Place the zoodles in a bowl to steam or microwave.
Lor Mee Zoodles 
Enjoy a healthier twist to a much loved local delicacy with this special recipe, courtesy of popular chef Kim Lillian Jesudasan.
Ingredients
2 medium size green zucchini (green or yellow)
(Optional) 1 cup bean sprouts (scalded)
Chicken stock:
4 pieces chicken breast
1 tablespoon thick soy sauce
1 tablespoon sugar
4 cups water / chicken stock
Prawn stock:
300 g medium prawns (shelled and keep for stock)
1 medium onion (wedged)
4 cloves garlic, crushed
4 cups water/ chicken stock
1/2 teaspoon 5-spice powder
3 tablespoons light sauce
Salt and pepper for taste
(Optional) Chicken stock cubes (optional)
2 hard-boiled eggs
For thickening
1 beaten egg with 2 tablespoons water
5 tablespoons tapioca starch / cornstarch + water (1/2 cup)
Garnishing:
Boiled prawns (sliced into half)
Fish cakes (sliced)
Sliced red chillies
Black vinegar
White pepper
Chopped coriander
Chilli and garlic sambal
3 tablespoons chilli paste
3 tablespoons oil
6 cloves garlic
Salt to tase
Chicken stock to taste
Preparation
Rub thick soy sauce and sugar onto the chicken pieces. Sear the chicken in 1 tablespoon oil until brown.
Turn off heat and add crushed garlic (to prevent burned garlic).
Place pot back on the heat and add 4 cups water, 5-spice, thick and light soy sauce. Bring to boil and simmer until chicken is tender. Remove chicken to cool. Add the whole hard-boiled eggs at the last 15 minutes of cooking.
While chicken stock is still simmering, in another pan, heat up one tablespoon oil and fry the prawn shells until their colour changed. Add onions and 4 cups water and bring to boil. Simmer until fragrant (about 30 mins).
Mix the two kinds of stocks together and, if you prefer, add in chicken stock cubes. Add in salt and pepper to taste. Simmer further for at least 10 minutes and gradually add in the starch mixture and mix well until sauce thickens. Once almost red, stir in the beaten egg mixture and have a quick stir and turn off the heat.
For the zucchini, use a mandolin or vegetable slicer and shred the zucchini lengthwise or julienne them into long strips.
In a heated pan, add in one tablespoon of grape seed oil and cook for about 2-3 minutes or until the zucchini noodles are tender, and careful not to get them overcooked. (Zucchini noodles should be slightly crunchy when eaten.)
Let the zoodles rest to release moisture. Then, drain excess water.
Thinly slice cooled chicken breast and put aside. Remove the hard boiled eggs and cut into quarters or halves; leave aside for garnishing.
Place the zoodles in a bowl and pour in the Lor Mee sauce. Garnish with sliced chicken, fish cake, hard-boiled egg and some minced garlic, red chillies, white pepper and chopped coriander. If you prefer, serve with black vinegar.
For the sambal
Heat up oil in a saucepan.
Add chilli paste and salt and cook until oil separates.
Blend with garlic, chicken stock and salt into fine paste using a food processor. 
If you like this article, do subscribe here.