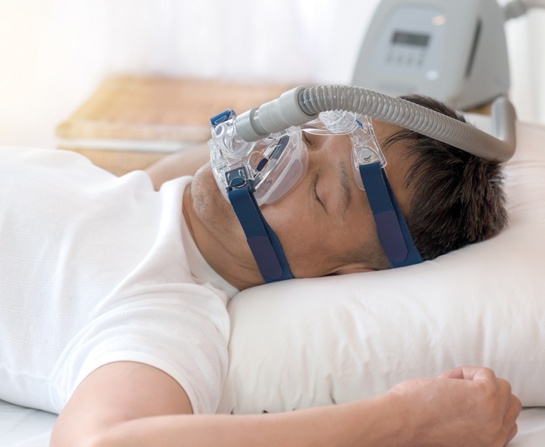 WORDS LIM TECK CHOON
Dr Mangayarkarasi M Ramanathan
Consultant Physician & Respiratory Physician Assunta Hospital
#1 Obstructive sleep apnoea (OSA) is NOT a snoring problem.
Like its name would suggest, OSA is a condition in which there is an obstruction in your airway that interrupts your breathing while you are asleep. Possible obstructions include tonsils and adenoids in children or muscles at the back of the throat that can become too relaxed during sleep, narrowing the airway as a result.
When you have OSA, your body interrupts your sleep to get you to breathe each time oxygen levels fall below normal. As a result, you never truly reach deep sleep, and you wake up still feeling very tired.
Snoring is one possible sign of someone with OSA, but someone who snores may not necessarily have OSA.
OSA can also be 'silent'—the person with OSA may not snore at all. Dr Mangayarkarasi shares that people with 'silent' OSA often have high blood pressure because of their condition; often their OSA is detected only after the doctor begins investigating the cause of their high blood pressure.
#2 OSA is linked to many serious issues and poor quality of life.
Additionally, lack of proper sleep can lead to daytime sleepiness, which in turn puts you at risk of reduced workplace productivity and/or academic performance as well as accidents. Accidentally falling asleep while driving due to OSA is a main cause of road accidents.
#3 Among children, hyperactivity may be a symptom of OSA.
Studies found that children with OSA are more likely to have problems paying attention or concentrating, and they also tend to develop attention deficit hyperactivity disorder (ADHD). As a result, their academic performance will suffer, and they will also have behavioural problems.
Children with OSA are also at increased risk of health problems listed in the previous point.
#4 OSA can be managed for better daily sleep and quality of life.
There is no cure for OSA. Dr Mangayarkarasi points out that, fortunately, it can be managed using continuous positive airway pressure (CPAP) therapy.
If you have OSA, your doctor may advise you to use a CPAP device each time you sleep. You need to wear a sleep mask attached to the device via a rubber tube, and once you've switched on the machine and go to sleep, the device will continuously deliver air via a steady, constant pressure. That way, your body will never be deprived of oxygen and you can achieve true sleep.
What about surgery? While surgery to widen the airway is certainly possible, Dr Mangayarkarasi reveals that among adults, this option is considered only after CPAP therapy fails to yield the desired positive results. This is because there is still a high possibility of someone developing OSA again some time in the future after a surgery.
For children with OSA, however, surgery is often the first option. Such surgery typically involves the removal of the tonsils to make more room in the airway.
#5 CPAP therapy is more convenient than before.
Don't be put off by the above photo— that's a typical image associated with the use of a CPAP device, but it's an old school one!
These days, the device is smaller, lighter, and sleeker, thanks to improved technology. There are even portable versions that will be most suitable for people who travel often,and these portable versions may even come with slots to charge your mobile phone! Furthermore, the rubber tubes are thinner, longer, and more flexible to allow for more mobility, while the masks are also smaller and more comfortable to wear.
Aren't CPAP devices expensive?
They do cost quite a bit, but in Malaysia, you can withdraw from your EPF funds to purchase the device. Furthermore, you may be able to pay in installments. Some government hospitals may offer CPAP devices at a subsidized cost as well. Therefore, don't immediately assume that you cannot afford a CPAP device.Talk to your ENT specialist—they can advise you on how you can best afford CPAP therapy within your budget. HT