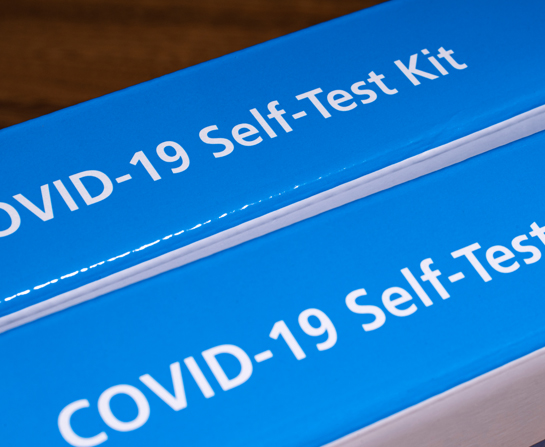 WORDS LIM TECK CHOON

 

YOU SHOULD SELF-TEST WHEN YOU HAVE BEEN IN CLOSE CONTACT WITH A POSITIVE CASE

 'Close contact' means that you have been in very close proximity to a person who tested positive for a significant period.
The virus is most contagious during 2 days before and 3 days after a confirmatory test. If your friend tested positive on Thursday, and you were in close proximity with your friend 2 days before and 3 days after, which is Sunday, you are likely to have had significant risk of catching COVID-19.

 

SELF-TEST 3 TO 5 DAYS AFTER YOUR LAST CONTACT WITH THE INFECTED PERSON

If you self-test too early, there may not be enough viruses in your body for the self-test kit to detect.
Minimise your movement or contact with others while waiting for the time to get self-tested.

 

THERE ARE 2 TYPES OF SELF-TEST KITS

 

Polymerase chain reaction (PCR) self-test kit

Recommended for people with symptoms or have been in close contact with a positive case.
Uses nose swap as sample.
Highly accurate in detecting viral genetic material.
Can be costly.
 Results may take 24 to 48 hours to be available.

 

Antigen Rapid Test Kit (RTK-Ag)

Recommended for people that have no symptoms or close contact with positive cases.
Uses saliva or nose swap.
Detects spike proteins present on the coronavirus.
Less invasive than PCR self-test kit, hence more comfortable to use for some people.
Generally costs less than PCR self-test kits.
Results take under 20 minutes to be available.
 If the result is positive, you should do a PCR test to confirm that you are indeed positive.

Note that different types and brands of self-test kits have different rates accuracy when it comes to detecting the presence SARS-CoV-2, the virus that causes COVID-19. Talk to your doctor or pharmacist for more information.

 

TIPS TO IMPROVE ACCURACY WHILE SELF-TESTING

Rinse mouth at least 30 minutes before taking the test
Choose a well-ventilated and clean environment.
 It's best to do this alone so that you can focus on the task at hand. If you need assistance, make sure the other person is fully protected (mask, face shield, PPE, gloves).
Have all the proper devices and equipment ready beforehand. Typically, you will need a timer, sanitizer, gloves, apron, and a disposal bag.
Read the instructions properly before opening the test kit. Watch a how-to video beforehand, if such a video is available online.