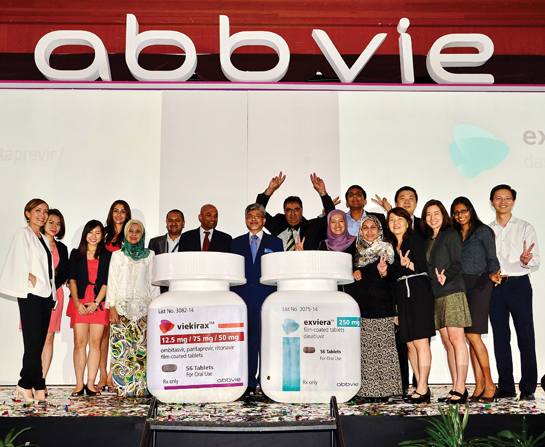 November 3, 2015 – A new milestone in the treatment of hepatitis C is unveiled today. AbbVie, a global biopharmaceutical company, announces that the Malaysian Ministry of Health's Drug Control Authority has approved VIEKIRAX™ (ombitasvir/paritaprevir/ritonavir tablets) and EXVIERA™ (dasabuvir tablets) with or without ribavirin for patients with genotype 1 chronic hepatitis C virus infection. People suitable to receive this treatment include those with compensated liver cirrhosis, HIV-1 co-infection, patients on opioid substitution therapy and liver transplant recipients.
In Phase 3 clinical trials, VIEKIRAX™ + EXVIERA™ cured 95-100% of genotype 1 chronic hepatitis C patients, with less than 2% experiencing virologic failure.
The Hepatitis C Landscape
According to Senior Consultant Hepatologist Professor Dr Rosmawati Mohamed, hepatitis C is one of the leading causes of liver cancer worldwide. She adds that most people with hepatitis C are not aware that they have the disease due to a lack of symptoms.
While hepatitis C may clear away naturally in some patients, approximately 75-85% will develop chronic hepatitis C. Over time, the liver may experience scarring (cirrhosis) and liver failure, the last being possibly fatal.
Now Close to 100% Curable
The hepatitis C virus can mutate and replicate rapidly in our body. This can make treatment challenging. VIEKIRAX™ + EXVIERA™ overcomes this hurdle as it contains three direct-acting antivirals with distinct mechanisms of action and non-overlapping resistance profiles, to target hepatitis C at multiple steps in the viral lifecycle.
Dr Rubentiran Ramar, the Medical Manager of AbbVie Malaysia, emphasises that the clinical trials demonstrated that the treatment failed only for a very small portion of patients. "In some cases, the cure rate is 100% across the patient population," he says.
"With high cure rates and low adverse events, even the most difficult to treat patients will benefit from this approval. We are pleased to provide VIEKIRAX™ + EXVIERA™ which will change the face of hepatitis C treatment in Malaysia, making a positive difference in the lives of people affected by this disease," says Mr. Mupindra Singh, Country Manager, AbbVie Malaysia.
"Hepatitis C is now close to 100% curable with the new all oral medication. Getting rid of the Hepatitis C virus will minimize the terrible consequences of cirrhosis and liver cancer," adds Professor Dr Rosmawati Mohamed.
[1] Viekirax and Exviera Malaysian Approved Package inserts
[2] World Health Organization. Hepatitis: frequently asked questions. Retrieved on Nov 9, 2015 from http://www.who.int/csr/disease/hepatitis/world_hepatitis_day/question_answer/en/
[3] Naghavi M., Wang H., Lozano R., et al. (2014). Global, regional, and national age-sex specific all-cause and cause-specific mortality for 240 causes of death, 1990-2013: a systematic analysis for the Global Burden of Disease Study 2013. Lancet. 385: 117-71.
[4] US Centres for Disease Control and Prevention. Hepatitis C FAQs for the public. Retrieved on Nov 9, 2015 from http://www.cdc.gov/hepatitis/hcv/cfaq.htm
If you like this article, do subscribe here.