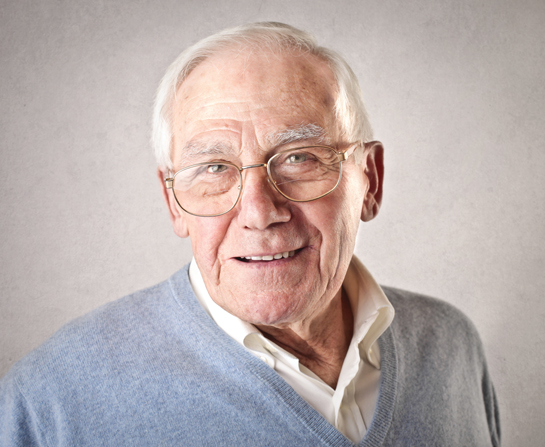 WORDS LIM TECK CHOON
There is no clear- cut answer to that question," consultant geriatrician Professor Dr Tan Maw Pin says when we ask her this question. "There are many factors to consider."
For one thing, the answer depends on whether the person has any existing health conditions. Someone with type 2 diabetes, for example, may find their sense of touch being affected by the condition over time, especially if their diabetes is not properly controlled.
Other factors may include physical geography and cultural elements. People in the Himalayan region, for example, have a high prevalence of eye problems such as cataract. In Nepal, glaucoma (an eye condition that can lead to blindness) is prevalent as the people in that country age – a survey from the World Health Organization and the Nepal Blindness Survey estimated that the rate could range from 3.2 percent to as high as 9 percent. It is thought that the prevalence of these problems could be due to a combination of poor nutrition, lack of proper sanitation, the climate and other issues.
"There are many variables, and therefore which sense will be affected first by ageing can differ from person to person," Prof Dr Tan says. "There is no 'secret formula', sadly, as everyone is a unique individual! It may be more worthwhile to focus on how we can go for certain screenings as we age to detect potential problems early."
Let's find out what these recommended screenings are.
BLOOD PRESSURE
Have our blood pressure checked every year or two.
Where? At any clinic.
Why? Age is a risk factor for high blood pressure. The older we are, the more likely we develop this condition. Earlier detection will allow for better management and reduced risk of heart problems in the future.
EYESIGHT
When we are 40 or older, we should go for an eye screening every 1-2 years.
Where? At an optometrist's clinic.
Why? This is to check for eye problems such as glaucoma and cataract. Glaucoma is a leading cause of blindness, and our risk of developing this condition increases the older we are.
GUMS & TEETH
Contrary to popular belief, we lose our teeth as we grow older because of gum disease (periodontitis), not age! "It's possible to have a full set of teeth no matter how old you are!" says Prof Dr Tan.
She recommends going to the dentist once every 6 months, so that gum diseases and other tooth issues can be detected and treated early.
TYPE 2 DIABETES
Age (45 years or older) is a risk factor for type 2 diabetes. The risk increases if we are also sedentary, overweight and/or have high blood pressure and other risk factors.
Where? At any clinic. The test consists of taking our urine sample and using a dipstick to detect the presence of glucose. If the results are normal, the doctor may recommend repeating the screening every few years.
An added advantage of this test is that we can also detect the presence of problems in the bladder or kidneys by analyzing the presence of blood, nitrites, protein and white blood cells in the urine sample.
Why? Early detection of type 2 diabetes will allow for better control and a delay in the development of health problems in the eyes, kidneys, heart and more. If we are found to be at risk of developing type 2 diabetes, the doctor can advise us on making the necessary changes to our daily habits to prevent this.
IF WE HAVE A FAMILY HISTORY OF HIGH BLOOD PRESSURE, HEART DISEASE OR TYPE 2 DIABETES, IT IS WORTHWHILE TO BE SCREENED FOR THESE CONDITIONS EVERY YEAR OR TWO.
WHILE SOME SCREENING TESTS MAY SEEM EMBARRASSING OR UNCOMFORTABLE, THE BENEFITS MAY BE WORTH THE TEMPORARY BOTHER
HEARING
Routine hearing screening is not viable due to the low pick-up rate, but Prof Dr Tan says that the test is actually quite simple.
The doctor will run some simple activities, such as whispering near our ears and asking us to repeat what has been said.
If we have difficulties hearing normal conversations, we should consult an audiologist for further examination.
CERVICAL CANCER
Women should routinely get a Pap smear every 3 years from the time they turn 21 years old to the time they hit 65. This test is useful to detect cervical cancer and other abnormal conditions of the cervix.
BREAST CANCER
Women are advised to go for a mammogram every 2-3 years from the time they turn 45 or 55 (different guidelines offer different age suggestions), earlier if they have a family history. We can discuss this further with our doctor.
After the age of 70, the benefits of breast cancer screening are not clearly defined, but some people choose to continue going for it.
Where? Most hospitals and medical centres should be able to offer this.
Why? If breast cancer is detected while it is in an early stage, there is a higher chance of recovery.
PROSTATE CANCER
While there is a screening test for prostate cancer in men, called the prostate- specific antigen (PSA) test, Prof Dr Tan says that a more effective screening method is to have a physical rectal exam performed by a healthcare provider. It may seem like an uncomfortable or embarrassing experience to some people, but it is actually a simple and quick (about a minute or two) procedure. This method also allows for detection of haemorrhoids, lumps and other unusual growths in the rectal area.
MEMORY & BRAIN FUNCTION
Perhaps lesser known compared to other screenings, the memory test (also called a neuropsychological test) allows for the measuring of the capacity of our brain to function in areas such as memory and language skills. This test consists of simple question-and-answer sessions, and the results will be measured against a standardized model.
Where? Most government health clinics have special health documents for older persons which include memory screening. Also, Prof Tan mentions that it is recommended that doctors do this opportunistically when an older person attends their clinic or hospital.
Why? This test can allow for early detection of issues such as memory loss, dementia, Alzheimer's disease and other often age-related brain function issues.
SOME COMMON SCREENING TESTS MAY NOT BE AS USEFUL WHEN WE GROW OLDER, WHILE OTHER TESTS BECOME MORE USEFUL.
These days, we can walk into any screening facility, and pick and choose for ourselves the ones we want from a list of available screening tests. However, we do not necessarily need to take all of them – some screening tests may actually offer negligible benefits to people in the older age group.
A ggod rule of thumb to follow is to first discuss with a are professional on the types of screening that will the most value for our Ringgit. HT
If you like this article, do subscribe here.