ASSOCIATE PROFESSOR (C) DR G RUSLAN NAZARUDDIN SIMANJUNTAK
Consultant Orthopaedic,
Arthritis & Sports Surgeon
ALTY Orthopaedic Hospital
Osteoporosis is a disease that weakens your bones, making them more prone to fractures.
Often, there are no symptoms. Many people only learn that they have osteoporosis after they experience a fracture and see a doctor.
Because fractures are potentially life-threatening when they occur to older persons, it is good to take steps to prevent this disease from quietly 'sneaking up' on you.
YOU CAN GET SCREENED TO FIND OUT HOW HEALTHY YOUR BONES ARE
If you are 65 or older, you should consult your doctor on getting screened for osteoporosis.
Tests such as bone mineral density (BMD) test will provide useful information about your bone health.
Blood profile tests help to detect presence of health conditions that can weaken the bones and increase your risk of osteoporosis.
WHEN SHOULD YOU SEE A DOCTOR AFTER A FALL?
When you experience severe pain that don't improve after taking over-the-counter painkillers
When you are unable to move after your fall
After you are admitted, you will be given an imaging test—typically X-ray and, if necessary, magnetic resonance imaging (MRI)—to determine the location and extent of the fracture.
HIP FRACTURES CAN BE COMMON AMONG OLDER PERSONS
Hip fractures usually occur on the long bone of the thigh, called the femur (see image).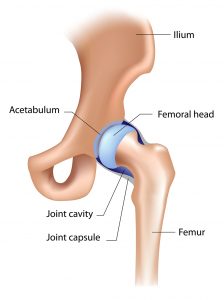 A surgery, called hip replacement, helps to address this problem.
A total hip replacement replaces the socket (acetabulum, see image) and the head of the femur.
A partial hip replacement replaces only the femoral head (see image). This is usually an option for older persons with more limited mobility.
The surgery takes place within 2 hours, and you'll stay in the hospital for around 3 more days. During this period, a physiotherapist will guide you on the exercises that you can do to restore the range of motion of as well as to strengthen your hip.
WORK WITH YOUR HEALTHCARE TEAM TO REMAIN INDEPENDENT & MOBILE
For example, you may use a walker or wheelchair to remain mobile, and you may need to master new techniques (such as for using the toilet, bathing, dressing, etc) that take into account your condition.
If you have problems traveling to see your physiotherapist, consult your healthcare team on the possibility of having the physiotherapist visit your home instead.
---
This article is brought to you by ALTY Orthopaedic Hospital.