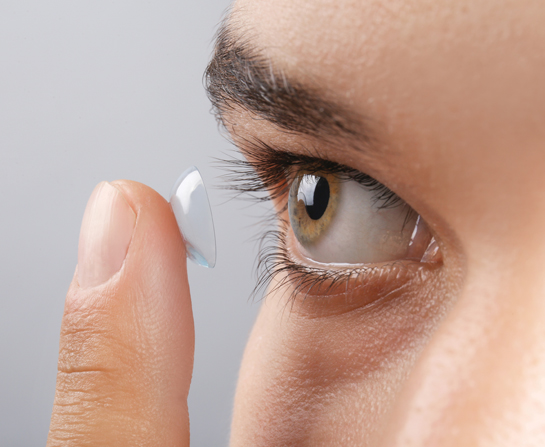 WORDS HANNAH MAY-LEE WONG
Woon Pak Seong
Optometrist
President of the Association of Malaysian Optometrists
The eyes are the windows to your soul; which is why it is of utmost importance that you take extra good care of them. Things get a little more complicated when you decide to wear contact lenses instead of spectacles -it requires more caution and hygiene. HealthToday talks to optometrist Woon Pak Seong to get some tips on contact lens upkeep and more.
ARE CONTACT LENSES SUITABLE FOR EVERYONE?
Most people can wear contact lenses to correct their vision, but there are certain groups of people who should stay away from them. Those who have a history of eye disease, suffer from allergies, have dry eyes, often get conjunctivitis or those who live in dry, dusty environments might not be suited for wearing contact lenses.

WHAT ARE THE EYE TESTS WE SHOULD GO THROUGH BEFORE SELECTING A PAIR OF CONTACT LENS?
Optometrists would first go through the eye history of their customers. They would check if the person has had any eye diseases in the past, has a family history of eye disease, had previous eye injuries and ask how frequently he or she is planning on wearing the contact lenses.
Then, the optometrist will carry out tests to determine eye prescriptions — to correct short sightedness and astigmatism. They should also check whether the two eyes work together and whether the eyes react to light to determine overall eye health.
Some eye health centres have instruments to measure eye pressure. This is to see if you have glaucoma. Other tests include those that check for cataracts and whether the retina is healthy. Finally, the optometrist would measure the curve of the eye using a keratometer or a topographer. This is to ensure the contact lens will fit well and sit well on your eye.
It's important that a pair of lens is a good fit. When your eye moves, the lens should move a little bit along with it. If the lens moves too much, you may get poorer vision; if the lens doesn't move, it mean it's too tight and that's not a good sign either. Additionally, there's another test called the fluorescent staining. It is a liquid that is put on your eye to check for infection or scratches on the cornea.
Once you've got the right fit, the optometrist will teach you how to put on your contact lenses. Thereafter, you should schedule your regular follow-ups with the optometrist. First time wearers should visit the following day, and thereafter you should visit every six months.
DOES THE BRAND OF CONTACT LENS MATTER?
Yes, it matters because every brand would have different thickness in material, design and how long you can wear them for (daily, monthly or weekly). Some contact lenses are suitable for astigmatism or are multi-focal. You'll have to find a reputable brand most suited to you.
IS IT SAFE TO BUY CONTACT LENSES ONLINE OR AT KIOSKS AT THE SHOPPING MALL?
The biggest problem with buying online is that you run the risk of receiving counterfeit products. Although some online shops do sell genuine products, there is no guarantee. The box and the lenses may look identical to the genuine product, but the performance and the quality of these counterfeit lenses will not be the same. Contact lens production is a complicated process. The environment must be sterile, and you'll need strict quality control.
As for buying your contacts from a kiosk, the downside is that they don't provide services for your regular eye tests. It is recommended to get your eyes checked every six months to one year.
BUY THE RIGHT BRAND OF CONTACT LENSES FROM REPUTABLE VENDORS.
HOW CAN WE KNOW IF AN OPTOMETRIST IS QUALIFIED?
There are two websites where you can search the list of optometrist members in Malaysia. If you want to find the nearest optometrist to you, go to: www.amo.org.my/ findanoptometrist. Alternatively, the Malaysian Optical Council (MOC) also has a website where you can search your practitioner's name. For that, go to optims.moh. gov.my/psearch.php.
PLEASE SHARE WITH US SOME TIPS ON CARING FOR OUR CONTACT LENSES AND CARING FOR OUR EYES WHEN WEARING THEM.
The most important thing is to replace your contact lenses on schedule. If you have monthly lenses, make sure you change them every month. If it's bi- weekly, you should change them every two weeks and so on. Before you put on contact lens, check and ensure the edges are not torn or jagged because that would cut into the eye.

HOW OFTEN SHOULD WE CHANGE OUR CONTACT LENS CASES?
You should change to a new case every time you open a new bottle of solution. Nowadays, every bottle of solution comes with a new case.
DOES THE BRAND OF SOLUTION MATTER? HOW DO WE CHOOSE ONE SUITED FOR US?
It does matter. Most of the time, when you buy your lenses, the optometrist will recommend a solution compatible for that brand. They refer to the staining grid and you can look it up online too. It is a chart telling you the brand of solution most suited to the brand of contact lens.
There are two categories of contact lens solutions, the first is multi-purpose solution and the other is the peroxide solution. Peroxide solution is stronger and is used for more thorough cleaning. But you'll need to use it with caution.
ARE DAILY CONTACT LENSES BETTER THAN MONTHLY ONES?
Dailies are more hygienic, but that said, some daily disposable brands may not carry certain prescriptions.
CAN WE WEAR CONTACTS WHILE SWIMMING?
Yes, but wear them with goggles. It is highly recommended that you wear daily disposable contact lenses for swimming. This is because the water that we swim in may be contaminated. Also, do not remove the contact lenses immediately after swimming because sometimes, if the swimming pool or sea water goes into your eye, the lens might tighten a little. Wait for it to loosen before removing it.
SHOULD WE REMOVE OUR CONTACTS BEFORE OR AFTER REMOVING MAKEUP AT THE END OF THE DAY?
You must remove your lenses before you remove your makeup. Makeup removers often have oil in them, and these will stick on the contact lenses and affect its performance.
ARE COLOURED CONTACT LENSES SAFE TO WEAR DAILY?
Yes, provided you go with a reputable brand. Good brands have their colorants insulated, so your eye does not have direct contact with the colorants that can cause allergies and discomfort.
CAN WE USE EYEDROPS WHEN WEARING CONTACTS?
Yes. But you should only use eye drops that are suitable for use with contact lens. Some eye drops have preservatives that may lock onto the contact lens and disrupt its performance.
HOW LONG SHOULD WE BE WEARING OUR CONTACTS DAILY?
Although some contact lenses can be worn for as long as 16 hours, it depends on your eye health. Your optometrist would advise you on the recommended wear time after examining your eyes. HT
If you like this article, do subscribe here.