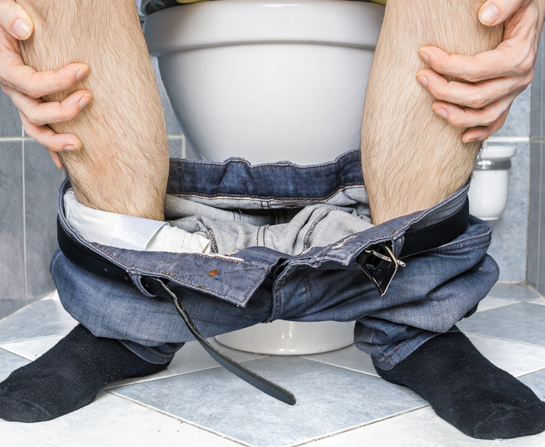 Myth
Lack of fibre in my daily diet is causing constipation. So, I'm going to eat more foods which are rich in fibre.
Fact
Eating a lot of fibre-rich foods can prevent constipation in most people. But be careful if you have severe constipation, as fibre-rich foods can worsen your condition.
Myth
Drinking more water helps get rid of constipation.
Fact
Drinking more water may not be helpful in treating constipation in most people. But, it can offer some relief for those suffering from severe dehydration due to constipation.
Myth
I can get rid of constipation by exercising more often.
Fact
Constipation is not just caused by lack of exercise. It can be due to other reasons too, like medicines and health problems. However, older people may experience constipation when they don't do enough exercise.
Myth
I'm always working late and don't always eat healthy. I suffer from constipation now and then, but that's nothing to worry about since I'm a healthy young woman.
Fact
If you seem to suffer from constipation more often than friends your age, do talk to your doctor to see if you have a medical problem. One possible and common cause of constipation is hypothyroidism or an underactive thyroid gland. This condition causes the body's processes to slow down, and constipation is one of the possible consequences.
Myth
Painkillers work on the nervous system so I shouldn't be having constipation when I take painkillers.
Fact
Certain painkillers like aspirin and ibuprofen may cause constipation especially if you take them often. Consult your doctor if you have been taking painkillers for a long time and suffering from constipation as well. You may be given another type of painkiller if needed.
Myth
Eating dairy products such as milk and cheese is good for me so I shouldn't be suffering from constipation.
Fact
Although dairy products are nutritious, they are also high in fat and low in fibre. Eating a lot of high-fat and low-fibre foods can slow down your digestion process.
So, you need to increase your fibre intake to 20-35 grams per day – try adding more salads, whole grains and fruits into your diet. There are also supplements and enriched beverages that contain prebiotics (such as fruit fibre) and probiotics that can help improve your digestive health and remove toxins in the colon; they can also support your efforts to keep constipation away.
References: 1. Health. Available at www.health.com 2. WebMD. Available at www.webmd.com
Picture: Shutterstock 235468528 (legs of woman sitting on toilet, her hands grabbing her legs in pain), shutterstock 92087189 (probiotics and prebiotics in juice, fresh fruits)
If you like this article, do subscribe here.