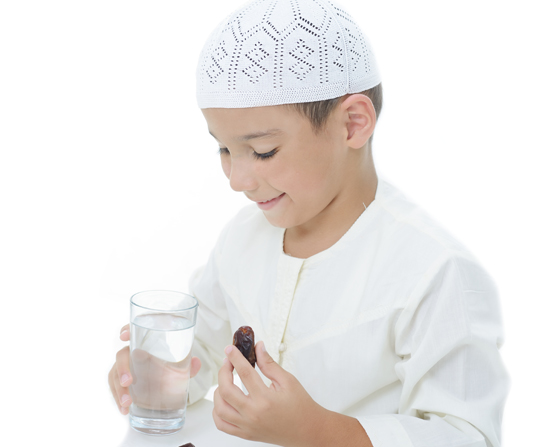 Dr Yong Junina Fadzil Consultant Paediatrician
Once again, the holy month of Ramadan is upon us. For parents with young children, fasting is the time to impress upon them the empathy one feels for the less fortunate. It is also a time for spiritual reflection – for many Muslim children, their early experiences in fasting can build a lifelong foundation for virtuous living.
"Ideally, if you follow religious standards of Islam, children should start fasting only when they reach puberty. However, in our society, many children wish to follow what their parents do and are curious about fasting. They may want to try fasting at a younger age," says Dr Yong Junina Fadzil, a consultant paediatrician.
She adds that the most important thing is to make sure that children want to fast on their own will without being forced by their parents. "You need to allow them to explore their curiosity and support them."
For example, children might start fasting later in the day and buka puasa earlier. "It's actually all right to let them do that," she says.
Eat and drink well
Dr Junina advises that children aged 9 years old and above, and who have not attained puberty can fast, provided their weight is within the healthy range and they don't have any chronic illnesses like diabetes.
Parents can wake their children as late as possible before imsak and serve them a proper meal like rice with dishes. If their children want to break fast at lunchtime, they should be allowed to do so. When encouraged thus, children may want to extend their fast over time.
When breaking fast, children can be given dates to increase their blood sugar levels. This must be followed with a proper balanced meal consisting of carbohydrates, protein, fats, vegetables and fruits.
After breaking fast, children should drink a lot of plain water, malted drinks and milk to prevent dehydration. It's best to avoid caffeinated beverages. Caffeine causes them to urinate often, becoming easily dehydrated. Before they go to bed, they can have supper consisting of beverage and kuih.
Children with illnesses must take medications regularly. Islam allows such children to be excluded from fasting, says Dr Junina.
The meaning of fasting
Fasting is generally synonymous with abstinence from food but it's actually more than that – it's a whole way of life. Besides abstaining from food, children should also be taught to abstain from other things like hurting their siblings and eating in public.
"The benefits of fasting for children are spiritual, so ideally, when you expose them to the practices of Ramadan it is to create an awareness of how fortunate they are and how less fortunate some people are," says Dr Junina. "This will teach them the meaning of compassion."
For children who are too young to understand the concept of fasting, they may feel that the fasting month is a month of torture. They will resort to cheating by eating in their bedroom or bathroom, and drinking tap water when they take ablution.
"Respect their limitations and encourage them to do the best they can," advises Dr Junina. Parents do not have to worry or fret if their child is unable to do everything right, as the time will come when they reach puberty. With puberty comes the maturity to accept, understand and better practise the act of fasting. They will do what is needed for them throughout the fasting month often on their own free will."
Tips for parents
Wake your children up for sahur as late as possible.
Make sure they drink enough water, as well as nourishing drinks like milk.
Make sure they eat enough – buka puasa and sahur should consist of 2 main meals like dinner and lunch, with healthy snacks in between.
Always encourage and support their efforts – don't judge them. Instead, let them break their fast when they want to, at their own pace and capability.
If you like this article, do subscribe here.