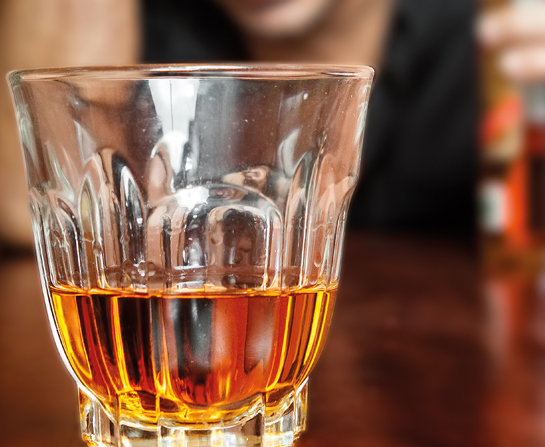 Dr Amer Siddiq Amer Nordin   Associate Professor & Consultant Psychiatrist, University Malaya Medical Centre & UM Specialist Centre
Dr Amer Siddiq Amer Nordin can usually be found at the Department of Psychological Medicine in the University Malaya Medical Centre (UMMC). This department has an outpatient clinic which runs on Mondays to Fridays, 9 to 11 am where Friday is a day dedicated to addiction related problems which includes alcohol addiction.
"Many patients with an alcohol addiction are referred by other medical specialists who are dealing with health reasons related to their addiction. Very few come in being aware that they have an addiction," he says.
Dr Amer is also affiliated with the University Malaya Centre for Addiction Sciences (UMCAS), and he has a keen interest in the topics of alcohol and nicotine addictions. UMCAS is one of the initiatives established by University Malaya in this country to conduct relevant research on as well as to design effective recovery programmes for various addiction problems, including alcohol addiction. The upcoming years may bring about interesting insight on how to improve the management of addiction problems in this country.
The slippery slope
Malaysia is a melting pot of many different cultures and religions. While Islam prohibits the drinking of alcohol and most other religions call for moderation when it comes to that habit, alcohol remains a big part of our lives, so much so that the World Health Organization (WHO) reported in 2011 that Malaysia is the world's 10th largest consumer of alcohol.
Alcohol addiction is closely related to binge drinking, a habit in which someone drinks alcohol in order to become intoxicated (drunk). Different people become drunk after different amounts of drink (alcohol intake), and it is those with a higher tolerance for alcohol that are at a higher risk of becoming addicted to alcohol.
Addiction happens when an individual has no control on their use of alcohol. According to Dr Amer, alcohol becomes the main focus of their livesm and they develop salience when it comes to searching for alcohol. They start to consume more of it and develop withdrawal symptom should they stop drinking.. It starts to cause them both physical and psychological consequences.
"Binge drinking can lead to problems such as blackouts and alcohol poisoning," says Dr Amer. "It can also cause other problems such as accidents, like those caused by drunk driving." In the long run, alcohol addiction can lead to various problems in one's life: complicated health issues such as alcoholic liver disease, as well as social problems such as domestic abuse.
A medical problem
These days, alcohol addiction is considered a medical problem, and there is a concentrated effort to make it easier for healthcare professionals to assist those who want to break the addiction.
When someone walks into the psychiatric clinic in UMMC during its opening hours, for instance, he or she would be attended to, even if that person does not have a referral or prior appointment.
"First, we will conduct a thorough health examination to assess just how far the person's alcohol addiction has impacted the person's health. This includes both physical and mental health assessment," explains Dr Amer. "We would also get as much information as possible – from the patient or the people accompanying the patient – on the person's drinking habit as well as other related aspects of his or her life."
Once the healthcare team has an accurate picture of the patient's state of health, appropriate medical care would be provided for any health conditions caused by the person's drinking habit. Furthermore, a psychiatrist would work closely with the person and his family to put into effect behavioural changes that would help the person kick the drinking habit. In certain conditions, medications are available to help curb the patient's addiction. On top of that, follow-up support would also be provided to help patients stay sober in the long run.
Dr Amer explains that, throughout the treatment, psychiatrist will also closely with other members of the medical fraternity to ensure that the patient is treated for both his physical ailments in addition to his alcohol addiction.
"We have a good treatment and support network available in Malaysia, and these days, we can design individualised or customised programs to help the alcohol addict recover with a greater chance of success," says Dr Amer.
Therefore, he encourages Malaysians to seek help when they or, someone they know have problems with alcohol addiction. The earlier they seek help, the better are the odds for recovery and, hence, a second chance at living a healthy and fulfilling life in complete sobriety.
Where to seek help
Many medical establishments, both government and private ones, have trained staff capable of dealing with addiction problems. The UMMC outpatient psychiatric clinic is just one of them, and it is open from Mondays to Fridays from 9 to 11 am.
For those living in smaller towns or rural areas, Dr Amer advises them to consult the family medicine specialist of the nearest klinik kesihatan.
There are also strong support networks available to help patients in many ways, from providing emotional support to helping the person transition back to normal life. Such support networks, usually run by well-trained volunteers, include Alcoholics Anonymous Malaysia (www.aamalaysia.org) and PENGASIH Malaysia (www.pengasih.org).
If you like this article, do subscribe here.