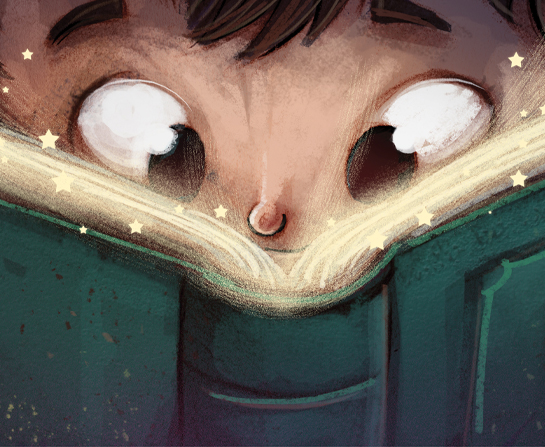 WORDS LIM TECK CHOON
Most of us have heard of the story of Little Red Riding Hood. The version we are familiar with is one of many retellings that had been passed down from parent to child over centuries.But do you know that there is a lesser known version, as retold by the Brothers Grimm, which saw Little Red Riding Hood, having survived her encounter with the Big Bad Wolf, meeting another similar wolf in the woods?
She eventually sets a trap by pouring the water her grandmother had boiled some sausages in into a river. Lured by the smell of sausages, the trips into that river and drowns. Little Red Riding Hood then happily goes home, knowing that she will never be threatened by wolves ever again.
Real life isn't a fairy tale, as much as we may sometimes wish it to be, and hence, children who are fearful may need a little help and support to deal with their fears. Clinical psychologist Shazeema Mashood Shah shares with us some insight as to how we can help our own Little Red Riding Hoods and Peter Pans overcome the Big Bad Wolves and Captain Hooks that cause them fears and anxieties.
DON'T BE AFRAID OF BEING AFRAID
Everyone feels fear. It isn't just kids who harbour anxieties about the great and frightening unknown, we grown-ups and parents do too. Whether it's a fear of flying or of heights, our fears are rarely rational. No matter how much we are presented with evidence on how statistically small our chances are of dying in a plane crash, for example, our fear of flying may remain a tough one to douse.
Shazeema points out that if we adults still have a hard time tamping down our fears sometimes, children often have a harder time. After all, they are still learning about the world, and there is still much that is confusing and even frightening about it.
Childhood is a time for many 'firsts' – first time at school, first time being away from parents and home, first time meeting strangers, first time making friends, first time using the toilet without aid from their parents… for many children, the idea of doing these strange new things may fill them with anxiety and even fear.
THE PSYCHOLOGY OF FEAR
What we know so far about fear is that our brain has a 'fear centre' called the amygdala, which is located in the temporal lobe region.
Shazeema says that being afraid is not necessarily a negative thing. "Being scared is one type of survival instinct," she explains, pointing out that we are often afraid of things that are inherently capable of causing great harm to us. "When we are afraid, our body is also primed to run," she adds. Our heart races faster as it pumps more blood to our organs in anticipation of a burst of activity (either running away or fighting), and with that, we experience other sensations usually associated with fear, such as sweaty palms, nervousness, trembling and more.
Research has found that there is a consistent response to fearful threats across different species. The brains of rats and humans, for example, respond similarly to these threats. However, the types of threats can differ from one person to another. One child may be scared of the dark and can only be comforted by having her beloved puppy by her side, for example, while her brother has no problems with the dark but is afraid of dogs instead.
The bottom line is that fear is not a sign of weakness. It's perfectly normal for a child (and grown- up) to have fears. It is only an issue when fear becomes so overwhelming that it prevents us from leading a normal life.
Reference: Dzierzak, L. (2008, October 27). Factoring fear: what scares us and why. Scientific American. Retrieved from www.scientificamerican.com/article/factoring-fear-what-scares
"MOMMY, I DON'T WANT TO BE A SCAREDY-CAT ANYMORE…"
If our children are often fearful, we as parents sometimes may end up worsening their fears by trying to downplay their fears as silly or becoming overprotective and over- coddling them. All these may cause the child to keep their fears to themselves instead, so that Mom and Dad won't become angry or worried.
Shazeema has a few pointers to ensure that parents can help and support their children's efforts to manage their fears.
#1 COMMUNICATE WITH OUR CHILDREN
"Children may not always voice their fears to parents," Shazeema points out. They may not know how to describe their fears, for example, or they may be reticent because of worry about how their parents will react.
One thing we can do is to open up more to our children. "Encourage frequent conversations with them," Shazeema suggests. "Let them know that they can always talk to you about anything, no matter how silly it may be." A good place to start is at the dining table, through conversations during family meals.
In the meantime, we should listen to what our children tell us. Let them speak, and we can let them know our thoughts once they have finished. If we are too quick to judge, scold or correct our children before they finish, they may feel discouraged from opening up to us in the future.
#2 REACH OUT TO OUR CHILDREN'S TEACHERS AND OTHER PEOPLE WHO ARE CLOSE TO THEM
Our children may not open up to us readily, or prefer to keep things to themselves because they are worried about how people will react if these things come out into the open. When this happens, we may overlook signs that our children are experiencing emotional distress.
Therefore, Shazeema recommends building up a good rapport with our children's teachers as well as our children's friends and their parents. That way, we can ask them how our children are faring in their company. Sometimes, they may approach us if they feel that our children are having emotional issues.
#3 ARE WE INDIRECTLY FANNING OUR CHILDREN'S FEARS?
One thing that we parents sometimes overlook is that our children may be anxious or afraid as a response to our own reaction to various situations.
"If we let our anxieties show, our children will also behave the same way, thinking that it is the 'normal' way to react," Shazeema says.
Therefore, it is worth taking time to discover whether we too are prone to being anxious and fearful. If our own responses are making our children anxious, it may be worth making the effort to manage our anxieties first.
#4 HELP OUR CHILDREN MANAGE THEIR FEARS, NOT SHELTER THEM
If our children are anxious or unhappy, it is natural to want to keep them from experiencing the source(s) of their fears. However, there is also a likelihood that, if we do this, we are only reinforcing their fears in the long run.
Shazeema suggests a better way: as parents, we can help them learn to tolerate their anxieties, so that they can still function to their best capability despite their emotional turmoil. This way, they will also learn how to deal with new or worrying situations in the future.
For example, our child is afraid to sleep in the dark. Instead of letting her sleep in a lit room, there are other things we can do. "We can place a soft lamp at the bedside table," she says as an example, "or tell our child to try to sleep, and Mommy and Daddy will check up on them soon."
Sometimes the child's fears may feel irrational or silly, especially if we are already cranky or tired after a long day's work, but we should remember that there are many things about this world that are still unfamiliar and hence frightening to our children. It is worth having some patience and keeping a good sense of humour when it comes to our children's anxieties. Shazeema points out that, how we help our children cope with their fears and anxieties when they are young will be valuable when they become adults and have to deal with even more emotionally challenging situations.
TRY TO AVOID ASKING QUESTIONS OR SAYING THINGS THAT MAY INFLAME OUR CHILD'S FEARS. FOR EXAMPLE, IF OUR CHILD IS AFRAID OF AN UPCOMING CONCERT PERFORMANCE, AVOID MENTIONING HOW EVERYONE WILL BE WATCHING HER OR THE RISK OF FUMBLING DURING THE PERFORMANCE. FOCUS ON THE POSITIVE, SUCH AS HOW PROUD WE ARE OF HER GETTING TO BE ON STAGE.
#5 BE POSITIVE AND SUPPORTIVE, BUT DO SO WITHIN REALISTIC EXPECTATIONS
We should not make promises that we can't keep. For example, if our children are fearful of the upcoming examinations, we shouldn't promise that they will surely pass the exams or the exams will be easy. If they don't do well, this will only reinforce their fears and possibly even make them think twice about taking your future advice to heart.
Instead, we can tell them that they will be okay. It is the same with trying to get our children to try something new – instead of telling them that it will be fun (because they may not agree even after trying it), assure them that we will do it together with them, they will be fine, and if they still don't like it, it's fine; we can do something else after this. HT
If you like this article, do subscribe here.