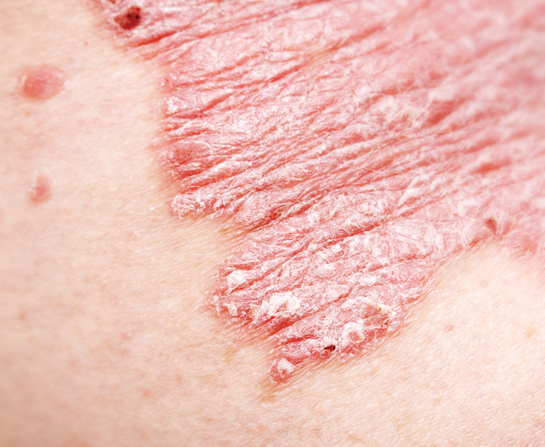 Dr Peter Ch'ng Wee Beng   Consultant Dermatologist, Peter Skin Specialist, Gleneagles Kuala Lumpur
People with psoriasis know that this condition is no mere skin disease. Their skin forms red patches with thick, silvery scales, and these plaques are accompanied by itch, irritation and even joint pain. The joint pain may prevent the person from working or going to school, and the negative reaction of others to their appearance can hurt their self-esteem.
Psoriasis is actually an auto-immune disease, caused by the  immune system attacking healthy skin cells under the assumption that these skin cells are the 'enemies'.
Consultant dermatologist Dr Peter Ch'ng explains that, in addition to the symptoms described above, about 30% of patients with psoriasis may develop psoriatic arthritis. Just like rheumatoid arthritis, psoriatic arthritis causes inflammation of the joints, making movement difficult and even painful. Sometimes, the affected joints may become permanently deformed.
Treating psoriasis can be challenging
"The most challenging part of treating patients with psoriasis," says Dr Peter Ch'ng, "is how some patients, especially those with severe psoriasis, may not respond adequately to treatment. There are also patients who cannot tolerate the current conventional therapy due to side effects, or they suffer from health conditions that make these available treatments unsuitable or even dangerous for them (contraindication)."
Therefore, there are always people living with psoriasis who find that current available treatments still cannot help them achieve symptom-free outcomes.
A new option for clear skin
More treatment options are always better when it comes to psoriasis, and the dream of having clear skin is more achievable than ever, thanks to the introduction of secukinumab in Malaysia this year.
Secukinumab is the bioengineered version of an antibody that binds specifically to a protein in the body called IL-17A. IL-17A is thought to play a role in the development of symptoms in both psoriasis and psoriatic arthritis. Secukinumab stops the activity of IL-17A, thus helping to reduce the symptoms as well as inflammation to a very effective degree.
Dr Peter Ch'ng explains, "Secukinumab has demonstrated superior efficacy outcome compared to current treatments." He elaborates that eight out of 10 patients are able to achieve clear or almost clear skin after receiving this treatment. Furthermore, more than 80% of patients with psoriatic arthritis found that secukinumab managed to stop the progression of their joint damage.
But is the drug safe? Dr Ch'ng says, "This drug was studied in clinical trials involving more than 4,000 patients, and the safety profile was found to be similar to other biologic treatments in the market."
He also says that the most common side effects are upper respiratory tract infections, with symptoms such as sore throat and stuffy nose (nasopharyngitis, rhinitis). However, patients should not worry: if their physician deems that they are suitable to receive secukinumab, there would be a thorough discussion on the safety and precautions before treatment is initiated.
References:
NHS Choices. Psoriasis. Retrieved on July 19, 2016 from http://www.nhs.uk/Conditions/Psoriasis/Pages/Introduction.aspx.
Gladman, D.D., et al. (2005). Psoriatic arthritis: epidemiology, clinical features, course, and outcome. Ann Rheum Dis; 64:ii14-ii17 doi:10.1136/ard.2004.032482
Papp, K.A., et al. (2013). Efficacy and safety of secukinumab in the treatment of moderate-to-severe plaque psoriasis: a randomized, double-blind, placebo-controlled phase II dose-ranging study. Br J Dermatol.; 168(2):412-21. doi: 10.1111/bjd.12110. Epub 2013 Jan 18.
Novartis International AG. (2015). Novartis presents new data showing that the majority of patients are able to maintain clear or almost clear skin with Cosentyx across 3 years. Retrieved on July 19, 2016 from https://www.novartis.com/news/media-releases/novartis-presents-new-data-showing-majority-patients-are-able-maintain-clear-or
Novartis International AG. (2015). Novartis reports landmark Phase III results for AIN457 (secukinumab) showing rapid and significant efficacy in psoriatic arthritis patients. Retrieved on July 19, 2016 from https://www.novartis.com/news/media-releases/novartis-reports-landmark-phase-iii-results-ain457-secukinumab-showing-rapid-and
PI RD 09 DEC 2015; APPR 28 APR 2016
Drugs.com. Secukinumab side effects. Retrieved on July 19 from https://www.drugs.com/sfx/secukinumab-side-effects.html
If you like this article, do subscribe here.