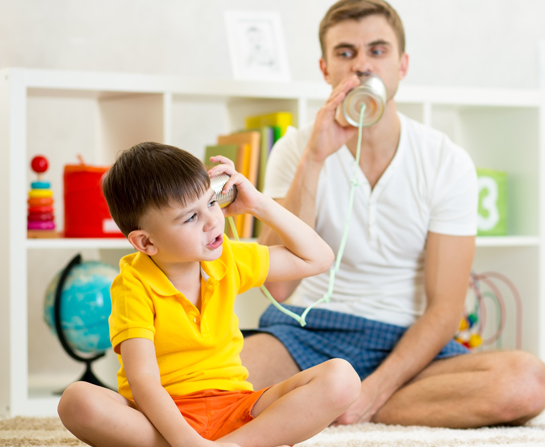 Many of us remember how strict our parents were back when we were young, and it was not uncommon for many of us to be at the receiving end of a smack or a whack of the rotan. However, these days, what worked for our parents might not work for us when it comes to our children.
So said Zaid Mohamad, a well-known parental coach and author, during the recent Cita-cita with Wyeth Nutrition event at KidZania Kuala Lumpur. While presenting his talk Role Model: From Nagging to Coaching, he pointed out advances in technology have changed the way our children perceive the people around them (their parents included).
What our children need
Parents who are present.
Children like approachable parents, according to Zaid. They feel comforted knowing that their parents would be there for them when they need love, advice or simply a listening ear. Thanks to modern communication technology, we do not have to be always physically there for our children – we can always be close to our children through WhatsApp and such even if we have to be at work.
Parents who support.
"Remember how we used to tune out when our parents nag?" asked Zaid. "Well, our children would do the same when we begin nagging!" Children of all ages dislike being talked down to, they prefer to be engaged by their parents.
To be such parents, we need to be good in communicating with our children, as well as in motivating them.
Little changes for greater impact
Changing our parenting style to achieve this does not require large overhauls – all we need are small simple changes that would make a big positive difference to our children.
Focus on actions, not the person.
By focusing on a child rather than his or her actions, we tend to pigeonhole the child into labels – "the naughty one", "the rude one", and such. Such action has a tendency to steer us into negative thinking. Instead, Zaid recommended focusing on what the child has done, and react to that.
Be clear and specific in your feedback.
If you are not happy with your child for a reason, Zaid said that you should make sure that your child knows why his behaviour is unacceptable.
To illustrate the above two points, let's imagine that your child is making a loud racket during his bedtime. Instead of focusing on him and calling him a naughty child, point out that his action is causing everyone else to be unable to sleep. Point out that everyone else would be very tired due to inadequate sleep, Mom and Dad would be late to work, and such. This way, your child will understand why his action is not acceptable.
Use positive language.
Do not be that parent who only offers criticism and nothing else, as too much negativity can desensitise a child to what you are telling him. On the other hand, parents who praise as well as criticise can hold their children's attention better, motivating them to improve on their behaviour.
Of course, sometimes it can be hard for us to stay sunny and upbeat in front of our children. Our mood may be darkened by incidents at the workplace, exhaustion, stress and even the traffic jams we have to endure on our way back home.
Zaid's personal solution to this dilemma is that he would not enter his house until he has destressed. If he has had a bad day, he would stop by his favourite mamak shop to chill. After a cup of teh tarik – two, if necessary – he would chat with the owner and playfully ask the owner whether he looked cheerful or fearsome. Once he knows that he can put a smile on his face, only then he would resume his journey home.
"Don't enter the house with a scowl or a bad temper. Like the late American poet Maya Angelou said, people would not remember what you said or do, but they would always remember how you make them feel," said Zaid. "Your children miss you and want to spend time with you when you come home from work, so make every moment you have with them a special one."
For more information on Zaid's smart parenting courses and books, visit www.smartparents.com.my.
If you like this article, do subscribe here.