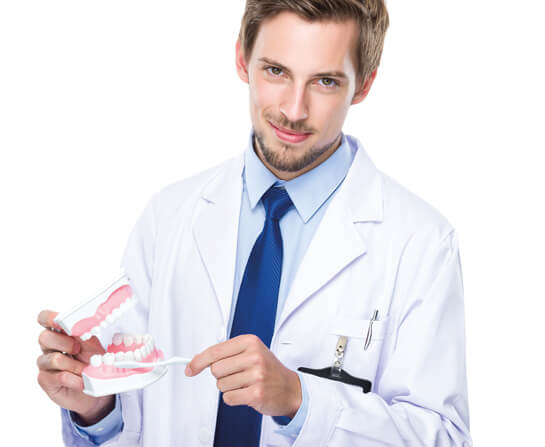 Dr Andrew Chan Kieng Hock
Consultant Oral Surgeon
Private Dental Practice Klang, Selangor
Fake braces done by a bogus practitioner. (Photo by Dr Andrew Chan Kieng Hock)
The issue of fake or illegal dentistry is a current phenomenon which is becoming more rampant in Malaysia. Its emergence can be attributed in large part due to the advent of social media platforms such as Facebook, Instagram, WhatsApp, and YouTube. The problem is more real and pressing than it would appear at first glance. One notable and memorable incident happened in 2017 where an individual who reportedly learned to carry out orthodontic treatment (dental braces) by watching YouTube videos was arrested, fined RM70,000, and subsequently released after the fine was paid through a crowdfunding exercise initiated by a non-governmental organization.1,2 This is not an isolated case, as there have been numerous cases of other convictions as highlighted by the mainstream media. In this article, Dr Andrew Chan Kieng Hock discusses what constitutes fake dentistry, how to spot fake dentists, and the adverse effects related to fake dentistry.
What Is Fake Dentistry?
Fake or illegal dentistry is a broad term which may include providing dental procedures or services by an unlicensed, unqualified or uncertified individual in a premise that may or may not be licensed. The definition can also include using unlicensed products sold by unregistered dental dealers locally or overseas, on the patients or customers.
Under the newly amended Dental Act 2018, every practicing dentist— whether working in the public or private sector—must be registrable with the Malaysian Dental Council (MDC) and must possess a valid Annual Practicing Certificate (APC). The APC is subject to annual renewal when the practitioner has accumulated sufficient Continuous Professional Development (CPD) merits, which are regulated by MDC.
In addition, all dental treatment must be carried out in a clinical or healthcare environment that is registered under the Private Healthcare Facilities and Services Act (PHFSA) 1998.3 Under this Act, anyone convicted of practicing illegal dentistry can be fined up to a maximum of RM300,000 and/or face imprisonment for up to 6 years.
How to spot fake dentists?
The modus operandi of most fake dentists includes:
Enticing victims by offering services with fees very much below the market prices charged by professional dentists. They usually advertise their services via social media platforms, flyers, posters, business card, or by word of mouth.
Operating in secretive or dodgy premises such as hotel rooms, homes, shop lots, markets, or even inside beauty salons. They frequently change the locations in order to avoid detection by enforcement officers.
Using dirty or rusty instruments which demonstrate the unhygienic conditions of the workplace or the low quality of the products, which are often purchased from e-commerce websites.
Not displaying or revealing their qualifications when probed.
The adverse effects of fake dentistry:
The treatment provided is substandard and often result in harmful and adverse side-effects.
Monetary losses as patients have to pay extra fees to seek retreatment from a legal dentist to rectify the damage inflicted.
Increased health risks including death due to the unhygienic instruments used. Infection control is often compromised, thus subjecting patients to the risk of serious infection, including HIV/AIDS, hepatitis B and hepatitis C.
The prime motivator of fake dentistry is money. Numerous people have been victimized by fake dentists due to pure ignorance and attraction to the huge discounts offered. The Ministry of Health Malaysia together with several dental bodies and stakeholders have been doing active roadshows and forums to warn the public regarding this issue.
Our enforcement agencies have been aggressively nabbing and convicting them with serious punishment. Hopefully, with all these measures taken, there will be fewer people being duped by bogus dental providers in the future because the consequences, as discussed, can be grave, including loss of money and general health. HT
Fake veneers done by a beautician. (Photo by Dr Andrew Chan Kieng Hock)
If you like this article, do subscribe here.
References: 1. The Star Online. Fake dentist grinning from ear to ear. Retrieved from https://www.thestar.com.my/news/nation/2017/10/10/fake- dentist-grinning-from-ear-to-ear-the-quacks-now-ive-got-fame-says-vocational-student-who-got-of. 2. The Star Online. Group denies helping to pay bogus dentist's fine. Retrieved from https://www.thestar.com.my/news/nation/2017/10/10/group-denies-helping-to-pay-bogus-dentists-fine. 3. Attorney General's Chambers of Malaysia. Private Healthcare Facilities and Services Act 1998 [Act 586]. Retrieved from http://www.agc.gov.my/ agcportal/uploads/files/Publications/LOM/EN/Act%20586%20KU%2028.12.2015.pdf