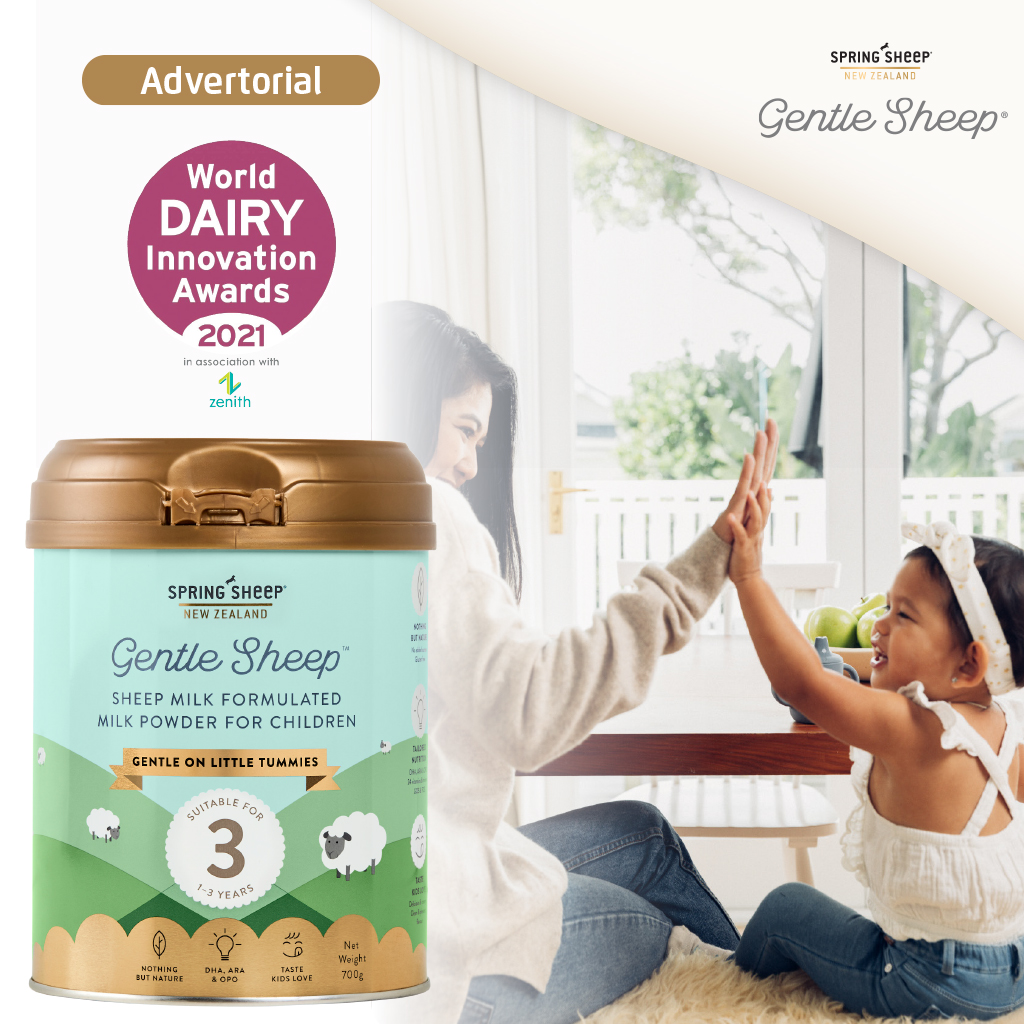 Gentle Sheep Premium Sheep Milk Toddler Formula is specially formulated by experts for 1-3 year olds whose regular diet may benefit from supplementation.
Specially formulated by experts
✓Milk from New Zealand grass-fed sheep
✓Made under strictest food safety and quality protocols
✓Ethically and responsibly sourced
✓No GMOs, antibiotics, or artificial growth hormones (use of artificial growth hormones is illegal in New Zealand)
✓ No artificial colours or flavours
✓No added table sugar (sucrose)
✓BPA free packaging with hygienic scoop in lid
✓ A clean, creamy taste that kids love!
Most parents are familiar with cow's milk and goat milk for their toddlers, but how about sheep milk? Well, sheep milk is loaded with its own unique benefits for a growing-up child's growth and development.
SHEEP MILK IS PACKED WITH NUTRIENTS, MORE THAN COW'S MILK!
✓Up to 60% more protein and calcium than milk from goats and cows.1
✓Higher amount of all 10 essential amino acids; essential amino acids can't be produced by the body and must be obtained from diet.2
EASIER ON THE TUMMY
✓ There are 2 types of beta-casein proteins in milk: A1 and A2.
✓ A1, present in high amounts in milk such as cow's milk, is linked to tummy issues in some people.3
✓Sheep milk is an A2-type milk, so it's ideal for kids sensitive to cow's milk.1
SHEEP'S MILK IS GREAT, BUT WE'VE MADE IT EVEN BETTER
✓Enriched with docosahexaenoic acid (DHA) and arachidonic acid (ARA). 
✓ Contains beta palmitin (OPO).
✓   With prebiotics galacto-oligosaccharides (GOS) and fructo-oligosaccharides (FOS).
Visit https://springsheepnz.com.my/ for more information on how sheep milk can be good for your kid.
This product is not for children under 1 year old. Breastfeeding is best and provides the optimal balance of nutrition and protection during growth and development. Ask your doctor for more information.
References:
 1. Barłowska, J., Szwajkowska, M., Litwińczuk, Z., & Król, J. (2011). Nutritional value and technological suitability of milk from various animal species used for dairy Production. Comprehensive reviews in food science and food safety, 10(6), 291–30
2. https://doi.org/10.1111/j.1541-4337.2011.00163.x 2. Park, Y. W., Haenlein, G. F. W., & Wendorff, W. L. (2006). Sheep milk. In Handbook of milk of non-bovine mammals (pp.137-194). Wiley-Blackwell.
3. Jianqin, S., Leiming, X., Lu, X., Yelland, G. W., Ni, J., & Clarke, A. J. (2016). Effects of milk containing only A2 beta casein versus milk containing both A1 and A2 beta casein proteins on gastrointestinal physiology, symptoms of discomfort, and cognitive behavior of people with self-reported intolerance to traditional cows' milk. Nutrition journal, 15, 35. https://doi.org/10.1186/s12937-016-0147-z