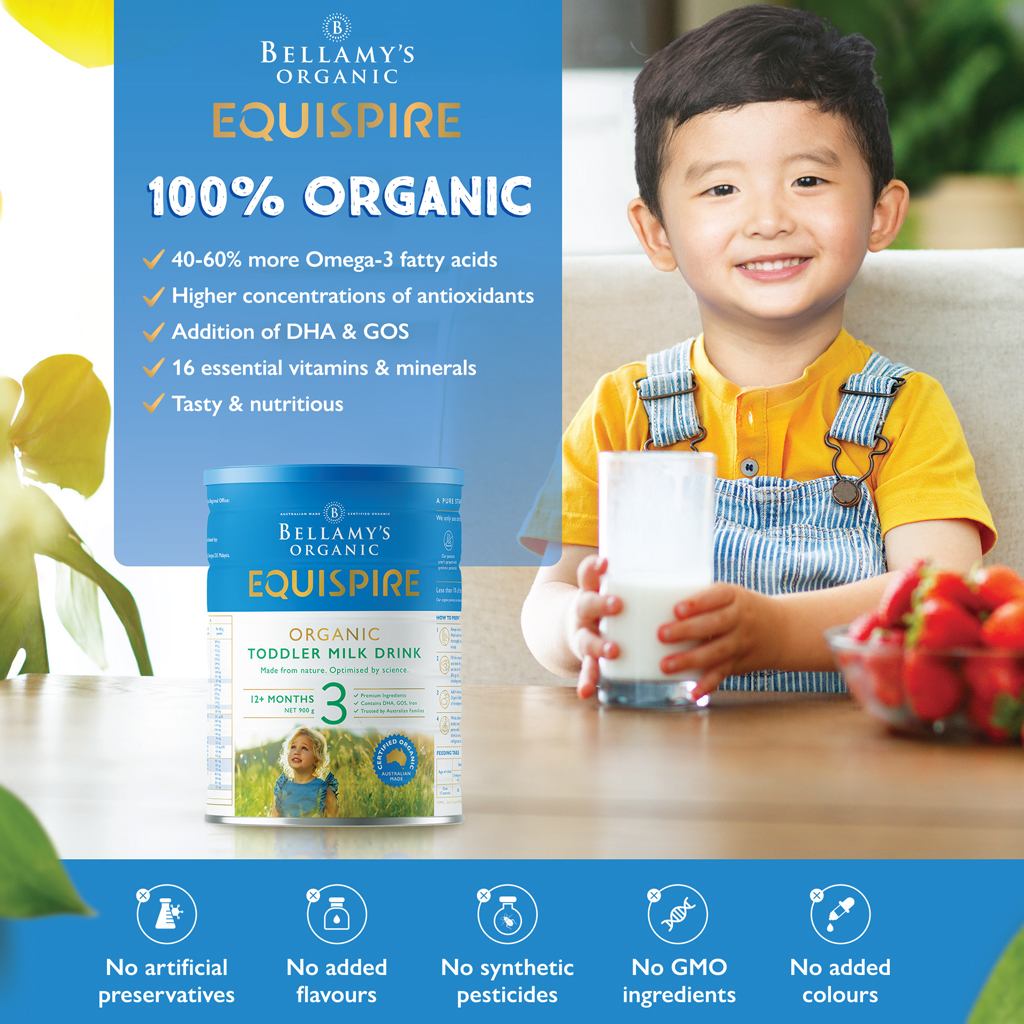 Your toddler's body is in a constant state of flux, with new tissues being built and current tissues being developed and fine-tuned.
Therefore, you don't want to just to give your toddler just any milk. Your toddler's milk should also be free of unwanted 'extras' that may hinder their optimal growth and development.
Organic milk is that milk your toddler deserves.
IT'S FREE FROM TOXIC CHEMICALS
The unwelcome news:
Pesticides are 10 times more toxic to a child than an adult.1
High-pesticide-residue foods have been linked to chronic or long-term health complications in children, such as learning disabilities and behavioural problems (attention deficit hyperactivity disorder or ADHD, etc).2
Such pesticides are commonly used in conventional farming these days, including during the production of feed that will be consumed by cows.
Now, the good news:
When it comes to organic cow's milk, care is taken to ensure that cows are fed on organic grass and hay. Absolutely no genetically modified grain, corn, or soy will be given to these cows.
That way, you can be assured that your toddler will be getting all the nutritional goodness of milk with none of the 'extras' that may be harmful to their growth and development.
ORGANIC MILK GIVES YOUR TODDLER QUANTITY AS WELL AS QUALITY!
Some nutrients are present in greater quantities in organic milk, compared to non-organic counterparts.
A good example of this is omega-3 fatty acids, which can support your toddler's mental and eye development. Organic milk contains 40-60% more of these fatty acids compared to conventional types!3,4,5,6
ORGANIC MILK IS ETHICALLY SOURCED & PRODUCED
Organic milk producers raise dairy cows in a more natural living environment. These cows have continuous access to organically-grown grass, and their diet is free from genetically-modified grains. They are also not subjected to antibiotics and growth hormones in order to force them to produce more milk.
As a result, these cows are healthier and happier. Such ethical raising and caring of the cows also involve sustainable practices that are kinder to the environment—less soil erosion, fewer wastage, and less air pollution.
NOT ALL ORGANIC MILKS ARE EQUAL—GIVE YOUR TODDLER THE REAL DEAL
As more parents become aware of the benefits of organic milk for their toddlers, it is important to pick the crème de la crème of organic milk brands—one that is properly certified to be indeed organic like the manufacturer claims it to be.
We're the only brand in Malaysia with double the assurances
At Bellamy's Organic EQUISPIRE, we are pleased to share that the EQUISPIRE STEP 3 TODDLER MILK DRINK is double-certified by the Australian Certified Organic (ACO) and the National Association for Sustainable Agriculture Australia (NASAA), two leading and internationally recognized certification bodies for organic products.
√ Organic milk is produced as nature intended, so you are giving your toddler a pure start in life.
√  Less than 1% of the world's dairy milk is certified organic, and we have two certifications! You can be assured that we are fully committed to producing authentic, genuine, and nutritious organic milk for your toddler.
√ No synthetic chemicals and processes assured.
The World Health Organisation and the Ministry of Health Malaysia recommend exclusive breastfeeding for the first year of life. After that children should receive age-appropriate complementary foods, and breastfeeding should continue up to 2 years of age. Consult your doctor if you have breastfeeding difficulties.
References:
1. National Research Council (US) Committee on Pesticides in the Diets of Infants and Children. (1993). Pesticides in the diets of infants and children (1st ed.). National Academies Press.
2. Roberts, J. R., Karr, C. J., Paulson, J. A., Brock-Utne, A. C., Brumberg, H. L., Campbell, C. C., Lanphear, B. P., Osterhoudt, K. C., Sandel, M. T., Trasande, L., & Wright, R. O. (2012). Pesticide exposure in children. Pediatrics, 130(6), e1765–e1788. https://doi.org/10.1542/peds.2012-2758
3. Średnicka-Tober, D., Barański, M., Seal, C. J., Sanderson, R., Benbrook, C., Steinshamn, H., Gromadzka-Ostrowska, J., Rembiałkowska, E., Skwarło-Sońta, K., Eyre, M., Cozzi, G., Larsen, M. K., Jordon, T., Niggli, U., Sakowski, T., Calder, P. C., Burdge, G. C., Sotiraki, S., Stefanakis, A., Stergiadis, S., … Leifert, C. (2016). Higher PUFA and n-3 PUFA, conjugated linoleic acid, α-tocopherol and iron, but lower iodine and selenium concentrations in organic milk: a systematic literature review and meta- and redundancy analyses. The British journal of nutrition, 115(6), 1043–1060. https://doi.org/10.1017/S0007114516000349
4. Griffin, R. M. (n.d.). Omega-3 fatty acids: Fact sheet. WebMD. https://www.webmd.com/healthy-aging/omega-3-fatty-acids-fact-sheet
5. Omega-6 fatty acids. (n.d.). Mount Sinai Health System. https://www.mountsinai.org/health-library/supplement/omega-6-fatty-acids
6. Benbrook, C. M., Butler, G., Latif, M. A., Leifert, C., & Davis, D. R. (2013). Organic production enhances milk nutritional quality by shifting fatty acid composition: a United States-wide, 18-month study. PloS one, 8(12), e82429.
https://doi.org/10.1371/journal.pone.0082429