WORDS LIM TECK CHOON
In conjunction with the 10th anniversary of Institut Kanser Negara's (IKN), the institute announces its collaboration with AstraZeneca Malaysia to introduce artificial intelligence (AI) X-ray technology into early lung screening.
This effort is part of Projek Saringan Awal Paru-Paru (SAPU), and IKN is the first government institution in Malaysia to implement this technology.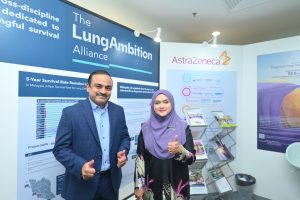 THE SIGNIFICANCE OF THIS MILESTONE
Lung cancer is one of the most common cancers in Malaysia.
It accounts for about 19 deaths per 100,000 population in the country.
80% of patients are diagnosed at stage IV, when the cancer has spread to other body parts and treatment becomes complex with poorer chances of a good outcome.
Hence, early screening crucial to facilitate early diagnosis and treatment for people with lung cancer.
IMPROVING ACCESS OF MALAYSIANS TO AI X-RAY TECHNOLOGY 
The introduction of AI technology in government hospitals and clinics will allow a wider part of the population to benefit from more precise lung screening at lower, affordable costs.
Dr. Mohd Anis Haron @ Harun, the Director of Institut Kanser Negara reiterates that early screening can improve the chances of survival, especially when it comes to lung cancer.
"This consequently can alleviate the high financial cost of cancer on our national healthcare system," he adds.