DATO' DR BADRUL SHAH BADARUDDIN
Consultant Orthopaedic,
Arthritis & Sports Surgeon
ALTY Orthopaedic Hospital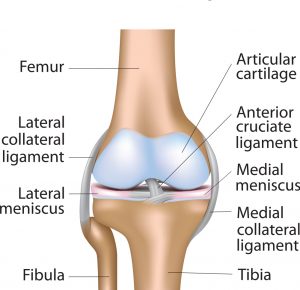 The anterior cruciate ligament (ACL) helps hold the bones called femur and tibia together at the knee joint.
ACL INJURIES ARE ONE OF THE MOST COMMON TYPES OF KNEE INJURIES
They are common among people that perform activities involving regular heavy use of the knees, such as avid football, futsal, and badminton players.
When the ACL is said to be 'injured', what really happens is that there is a tear in the ACL. This tear cannot be repaired in the conventional sense—the doctor cannot 'sew' or 'glue' back the torn ACL.
Instead, a surgery called ACL reconstruction will be necessary.
SOME COMMON SIGNS THAT YOU MAY HAVE AN ACL INJURY
Your ACL may be torn when there is a 'pop' sound as your knee is injured. Pain and swelling will occur at the affected knee but may resolve within one or two weeks.
If your ACL is not functional due to a tear, you will feel an instability in your knee.
Be alert for this instability, which will be especially noticeable when pressure is exerted on the knee during activities such as moving and standing.
This instability may be present even when there is no pain, and it could be a sign of an ACL injury.
When this happens, see a doctor to have the knee examined.
ACL INJURIES NEED TO BE ADDRESSED BY AN ORTHOPAEDIC SPECIALIST
If left untreated, continuous use of a knee with a torn ACL may damage surrounding tissues such as the meniscus and cartilage.
This would not only make movement more difficult and even painful, but the treatments involved would be more complex and hence more expensive.
Furthermore, ACL injuries can lead to significant loss of cartilage tissue in the knee and increases the risk of osteoarthritis.
The current recommendation for people with ACL injuries, of any age, is to undergo ACL reconstruction as early as possible (provided they do not also have concurrent osteoarthritis of the knee), especially in active persons.
This is to restore their knee function and to avoid developing further complications in the future.
ACL RECONSTRUCTION INVOLVES THE CREATION OF A NEW ACL TO REPLACE THE TORN ONE
The new ACL can be made from tendons taken elsewhere from your own body or from another person, or from synthetic materials.
Latest advances allow the use of a thin, flexible tube with a camera at one end (called an arthroscope) to guide the surgeon in performing the reconstruction more efficiently.
For the next few months after the surgery, you will be working closely with a physiotherapist to regain full use of your knee.
How soon can you walk and exercise after an ACL reconstruction?
You may walk the next day after surgery (using with crutches), cycling within 6 weeks, and run on a treadmill within 3 months. Sports can resume after 6 months, but contact sports such as football is advisable only after 9 months or 1 year.
---
This article is brought to you by ALTY Orthopaedic Hospital.