WORDS LIM TECK CHOON
On January 17, 2023, Malaysian Osteoporosis Society (MOS), the Academy of Medicine Malaysia, and our Ministry of Health launched their jointly-published 3rd Clinical Practice Guidelines (CPG) for the Management of Osteoporosis.
In the media briefing held in conjunction with this launch, our Director General of Health Tan Sri Dato' Seri Dr Noor Hisham Abdullah shares that:
Malaysians are now growing older and living longer. As a result of this, many of us will be affected by age-related non-communicable diseases, which includes osteoporosis.
Osteoporosis results in bone fractures, which are associated with disability and premature death.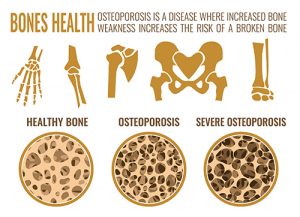 WHY IS OSTEOPOROSIS SUCH A CONCERN?
A 2020 study revealed that all people with hip fractures, upon treatment and discharge from the hospital, need walking aids.
6 months later, only 24% (that's about 1 out of 4 people) regain their mobility and their ability to live independently.
Another 26% die within one year after the fracture.
Tan Sri Dato' Seri Dr Noor Hisham Abdullah voices his concern that osteoporosis is a serious disease that requires early detection, intervention, and management even at later stages.
This is especially relevant, as the incidence of hip fractures is projected to rise from 5,880 in 2018 to 20,893 in 2050, a 3.6-fold increase!
THE KEYSTONES TO IMPROVING THE AWARENESS OF & TREATMENT OUTCOME OF OSTEOPOROSIS
Dr Yeap Swan Sim, the current President of the Malaysian Osteoporosis Society, states that the cornerstone principles in ensuring that Malaysians can age healthily and gracefully while minimizing the threat of osteoporosis are:
Understanding the disease
Taking preventive measures
Good management of osteoporosis
Knowing the appropriate surgical options, should these options become necessary
FRACTURES & OSTEOPOROSIS ARE NOT "NATURAL" AGEING PROCESS, SO TAKE THEM SERIOUSLY!
Dr Terence Ong Ing Wei points out that osteoporosis usually happens in older people and is almost as common as diabetes. "Diabetes evokes fear and concern, yet most people wouldn't give osteoporosis a second though," he muses.
Many people often assume that bones weaken and falls and fractures become more common because all these are a 'natural' part of ageing.
Dr Terence disagrees, stating that there is nothing natural about osteoporisis.
In fact, it is actually a very complex condition influenced by many factors. "Some things that we do not think too much about in our everyday lives have a huge impact on our bone health. These include physical inactivity, fad diets, cigarette smoking, and age-related hormonal changes such as oestrogen in ageing women and testosterone in men. All these increase the rate of bone loss at a time when strong bones are most needed."
DIAGNOSIS AT LATE STAGE OSTEOPOROSIS FORCES DOCTORS TO RULE OUT IDEAL TREATMENT OPTIONS 
Dr Yeap says, "We usually only see osteoporosis at its late stages—after a fracture has occurred. By then, the patient would have incurred significant amounts of bone loss. At that stage, it is no longer possible to offer treatments to replace the lost bone, which is the ideal scenario. Instead, treatment options will instead attempt to minimize the detrimental effects of a fracture experienced by the patient."
"Clearly, we should be giving more emphasis to screening and early detection, followed by suitable interventions so that we can protect the most vulnerable persons from this terrible illness," she adds.
EARLY DETECTION CAN ALLOW FOR EARLY PREVENTIVE MEASURES 
Professor Emerita Chan Siew Pheng concurs with the other experts. "This is because mainly because you don't even realise osteoporosis is there until you suffer from a fracture. So, the only way to know if you have osteoporosis before a fracture occurs, is by going for a bone density scan, also called dual-energy x-ray absorptiometry, DEXA or DXA."
More about bone density scan
Prof Chan explains that the bone density scan is a quick and painless X-ray procedure that allows doctors to find out whether osteoporosis is present.
It also allows doctors to predict the risk of future fractures in order to provide timely and suitable treatment. "This would save you so much trouble in the future!" she says.
According to Prof Chan, women aged 65 years or older and men 70 years or older should have a DXA scan done every two years.
Younger individuals may also need to be screened if they have certain conditions such as diabetes, thyroid disorders, nutritional malabsorption, eating disorders, rheumatoid arthritis, or are taking certain medications (like steroids) long term.
If you fall into any of these categories, you should consult your doctor for more information as to how you can benefit from a DXA scan.
With the right steps at the right time, osteoporosis can be effectively managed 
Prof Chan explains: "There are effective medicines that can be tailored to suit all sorts of patients based on their disease stage and lifestyle. Moreover, whenever pharmacological treatment is necessary, the medications that are available in Malaysia can reduce the risk of fractures from 15% up to 70%!"
She adds that these anti-osteoporosis medicines are generally well-tolerated and effective.
THIRD-EDITION CLINICAL PRACTICE GUIDELINES LAUNCHED TO IMPROVE SCREENING, DIAGNOSIS, & TREATMENT OF OSTEOPOROSIS
Dr Yeap Swan Sim shares that this clinical practice guidelines, meant for healthcare professionals in Malaysia, consists of evidence-based statements intended to assist healthcare providers in optimizing patient care.
"We must first recognize the fact that osteoporosis is a multi-factorial condition," she says. "Nutrition, age, hormone, lifestyle and the presence of pre-existing disease are some of the aspects that can affect bone health. All these requires not only input from one profession but multiple of them in order to provide patients with proper and effective care."
She adds: "As such, the clinical practice guidelines had to be written by a panel of experts from all the related disciplines, such as nutrition, geriatrics, endocrinology, orthopaedic surgery, obstetrics and gynaecology, rheumatology, primary care and pharmacy. The wide variety of expertise involved in the writing of the clinical practice guidelines ensures extensive coverage so that the guidelines will be able to inform all types of healthcare professionals who would be involved in the screening, diagnosing and treatment of osteoporosis."
The 3rd Clinical Practice Guidelines (CPG) for the Management of Osteoporosis was the fruit of the labour of the CPG Working Group comprising:
Dr Yeap Swan Sim (Chairperson)
Dr Terence Ong Ing Wei (Co-chairperson)
Associate Professor Dr Lim Lee Ling (Co-chairperson)
Professor Emerita Dr Chan Siew Pheng
Professor Datuk Dr Sabarul A Mokhtar
---
Interested healthcare professionals can download the 3rd Clinical Practice Guidelines (CPG) for the Management of Osteoporosis by clicking here. This link will open in a new tab.