WORDS LIM TECK CHOON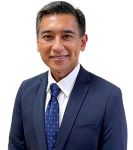 FEATURED EXPERT


DATO' DR AZMEE MOHD GHAZI
Consultant Cardiologist & Clinical Director
Heart Failure and Heart Transplant
National Heart Institute (IJN)
On May 8 this year, the National Heart Institute (IJN) and Pfizer Malaysia came together to promote greater awareness of transthyretin amyloid cardiomyopathy (often shortened to ATTR-CM), a rare, life-threatening disease.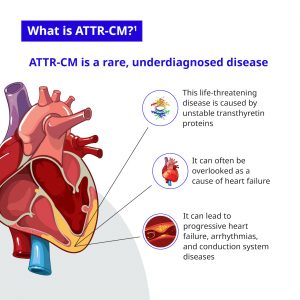 WHAT IS TRANSTHYRETIN AMYLOID CARDIOMYOPATHY?
ATTR-CM is caused by unstable transthyretin proteins that misfold and aggregate into amyloid fibrils that build up in the heart and other parts of the body.
This build-up of amyloid then causes the heart muscle to stiffen over time, eventually leading to heart failure.
Treatment is available, but detection of this disease tends to occur only at advanced stages due to lack of awareness of the disease.
"Diagnosis of ATTR-CM was often delayed or underdiagnosed due to the lack of optimal diagnostic modalities," says Dato' Dr Azmee Mohd Ghazi, a consultant cardiologist.
WHAT HAPPENS WHEN ONE HAS ATTR-CM?
According to Dato' Dr Azmee:
ATTR-CM can lead to progressive heart failure, arrhythmias, and conduction system diseases (diseases that affect the ability of the heart to transmit electrical signals that keep the heart beating), all of which can result in sudden cardiac death due to fatal arrhythmias or complete heart block.
Once diagnosed, the average life expectancy for people with ATTR-CM is about 2 to 3.5 years, depending on the sub-type, if left untreated.
"Given how similar ATTR-CM symptoms are to other diseases' symptoms, getting an accurate diagnosis from the onset can be an uphill battle," Dato' Dr Azmee. "However, medical advancements ensure that there are multiple channels to diagnose ATTR-CM, including nuclear scintigraphy and echocardiography."
He adds that studies have also found that a multidisciplinary approach, involving multiple health departments, works best to facilitate earlier diagnosis and management of the disease.
SYMPTOMS TO WATCH OUT FOR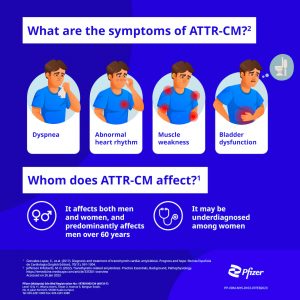 Symptoms of ATTR-CM are not specific, and they are often similar to symptoms of other conditions such as an abnormal heart rhythm, muscle weakness, and bladder dysfunction.
Nonetheless, one should be alert for these symptoms and consult a doctor for confirmation, as early detection will improve the odds for a better treatment outcome.