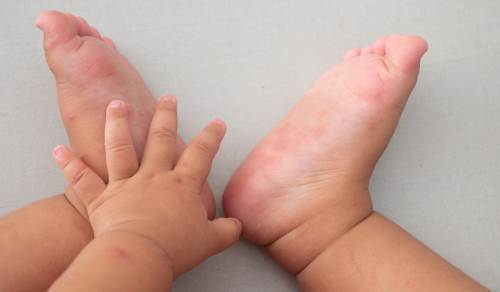 WORDS LIM TECK CHOON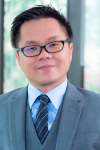 FEATURED EXPERT
ASSOCIATE PROFESSOR DR ERWIN J KHOO
Consultant Paediatrician and Head of Paediatrics Department
International Medical University (IMU)
WHY KIDS ARE VULNERABLE TO HAND, FOOT, AND MOUTH DISEASE
It's hard to avoid hand, foot, and mouth disease recently, as it's either affecting children in the country or appearing in the news.
Simply put, young kids are at risk of catching this disease because they are active, mobile, and curious.
According to Associate Professor Dr Erwin Khoo, toddlers tend to have a messy habit of touching and putting everything they come across into their mouths. This puts them at risk of the disease.
THE CULPRITS RESPONSIBLE FOR THE DISEASE
That will be viruses, the most common ones being Coxsackie A16 and Enterovirus 71.
According to Dr Erwin:
These viruses can be found in the respiratory tract and faeces, as well as in the fluid-filled blisters that form on the hands and feet of someone with hand, foot, and mouth disease.
The usual incubation period—the time period from infection to the first appearances of symptoms— is between 3 and 7 days, but it can also be and can go up to 2 weeks.
The virus can remain contagious for several days, even when it's on hard surfaces.
As a result, the virus can spread easily amongst those in close contact with the infected child. One can also catch the virus from touching toys, eating utensils, and other objects that had been handled by the infected child.
One can also catch the virus from not properly washing their hands after performing routine childcare tasks on the infected child, such as changing diapers.
COMMON SYMPTOMS OF HAND, FOOT, AND MOUTH DISEASE
Fever
Sores around the mouth
Rashes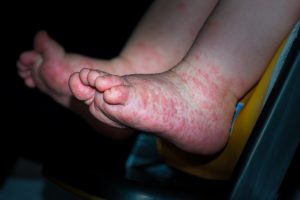 Widespread rashes across the body are commonly seen on children with this disease, which may lead some people to confuse it with chickenpox.
Dr Erwin shares that unlike chickenpox, however, the rashes of a child with hand, foot, and mouth disease typically form at the hands and feet (hence the name of the disease) as well as sometimes on the knees, elbows, and buttocks.
IT CAN ALSO AFFECT ADULTS
This disease commonly affects children under the age of 6, but adults can also get infected and develop the disease.
Research has suggested that adults usually experience milder symptoms when compared to children.
Hence, it is possible for adults to pass the virus on to children under their care.
ONE CAN GET THIS DISEASE MORE THAN ONCE
Dr Erwin explains that this is because there are different strains of viruses that cause this disease. Because of this, any immunity developed by the body after an infection is only temporary.
HOW IS HAND, FOOT, AND MOUTH DISEASE TREATED?
"There is no cure or specific treatment for this disease," Dr Erwin shares.
Currently, treatment revolves around managing the symptoms and making the child as comfortable as possible.
Dr Erwin points out that the disease typically goes away on its own between 7 and 10 days.
OKAY, BUT CAN WE PREVENT THE DISEASE FROM AFFECTING US OR OUR CHILDREN, THEN?
Unfortunately, we currently have no means to fully prevent hand, foot, and mouth disease from happening to us or our children.
SOMEONE AT HOME HAS THIS DISEASE. WHAT SHOULD WE DO?
Dr Erwin advises the following:
Be extra careful and limit contact with the infected individual.
Practice good hand hygiene. Wash or disinfect hands regularly, especially after caring for an infected child. It's also good to wipe down common areas, such as the living and dining areas, as well as commonly handled objects such as toys, doorknobs, etc with disinfectant.
Don't share food and eating utensils.
Avoid touching the eyes or nose.
Do the above up to 10 days after the infected individual started showing symptoms.
If your child is confirmed by a doctor to have hand, foot, and mouth disease, it is prudent to have the child stay at home to avoid passing the infection on to others.
WHAT CAN PARENTS DO TO HELP PROVIDE THE BEST TLC TO A CHILD WITH HAND, FOOT, AND MOUTH DISEASE?
Dr Erwin advises the following:
The paediatrician will prescribe appropriate medications for fever, pain relief, and reduction of inflammation of mouth ulcers. Parents wishing to use medications outside of the doctor's prescription should consult the paediatrician first.
Give the child easy-to-swallow foods, such as soups and porridges.
Have the child drink plenty of fluids to avoid getting dehydrated. Offer them their favourite drinks or juices.
For painful mouth ulcers, consider using cold treats such as ice cream, jelly, and yoghurt to provide soothing pain relief. Parents can also consider alcohol-free mouth rinses and oral gels for the child.
Have the child shower or bathe regularly, as this will help soothe their sores. Avoid using harsh soaps and body scrubs on the child, as these may irritate their skin further.
Afterward, apply a towel gently to dry the child, to avoid breaking the blisters on the child's skin. harsh soaps and scrubs that further irritate the skin.
If the child's sleeping area has air-conditioning, switch it off at night. This is because air conditioning can create a dry environment that will reduce the child's saliva production. This can cause the child's mouth ulcers to hurt more.
If cooling is needed, such as due to hot weather, a humidifier or even just leaving a bowl of water in the room can prevent an excessively dry environment from forming.
If the child can't sleep or rest due to pain, consult the paediatrician about the use of a pain reliever at night.
Dr Erwin points out that there are many "home remedies" being passed around, such as using coarse salts or enzyme water on a child with this disease. There is no evidence that such "remedies" actually work, and in most cases, they only irritate the skin and cause more pain and discomfort!
WHAT ABOUT COMPLICATIONS? ARE THERE ANY?
Usually, plenty of rest at home can help a child with hand, foot, and mouse disease recover, with over-the-counter treatments sufficient to relieve symptoms such as fever, rashes, and/or red spots.
However, in some cases, painful ulcers in the mouth can prevent a child from eating, drinking, and swallowing normally.
"This can lead to dehydration. Serious cases of dehydration require medical attention," Dr Erwin states.
To keep an eye out for signs of dehydration, parents can do the following:
Take note of poor urine output, dry mouth, and lack of tears when they cry.
These are possible signs of severe dehydration.
Seek immediate medical attention when your child experiences the following:
Rapid breathing
Disorientation
Drowsiness
Giddiness
Stiff neck
Seizures
Fever for more than 3 days
Not eating and drinking
IT MAY SEEM OVERWHELMING WHEN YOUR CHILD HAS HAND, FOOT, AND MOUTH DISEASE, BUT TAKE A DEEP BREATH
Dr Erwin encourages parents to take a different outlook.
"If you can arrange to take some time off from work, maybe with a doctor's letter for your employer, just stay home and spend this time with your kids. It is easy to overlook how quickly they grow up!" he says.