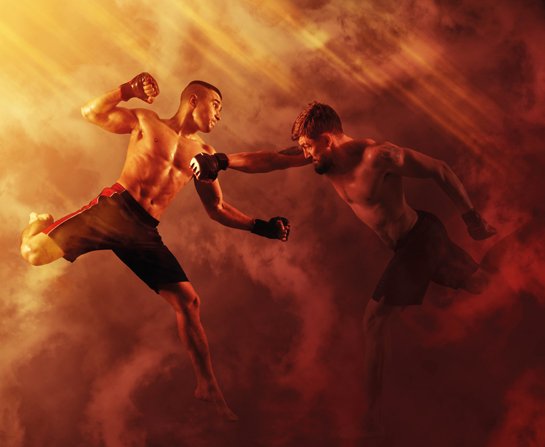 WORDS HANNAH MAY-LEE WONG
To give our readers a little background, Mixed Martial Arts (MMA) is a full-contact combat sport using a mix of martial arts techniques such as karate, Muay Thai, jiu-jitsu, taekwondo, etc. This month, HealthToday goes behind the fight scenes to talk to acclaimed MMA athletes: Agilan "The Alligator" Thani, Ann "Athena" Osman and Ev "The Extraterrestrial" Ting.
THE MALAYSIAN ALLIGATOR
Known as "The Alligator" in the Mixed Martial Arts (MMA) wrestling ring, the cheeky and perhaps unassuming 23-year-old Agilan Thani is right on track to becoming one of Malaysia's most prominent athletes.
Among the proudest achievements under Agilan's belt include: winning six consecutive bouts on the global stage of ONE Championship (Asia's largest sports media which broadcasts the competitive MMA sport) and bagging the Malaysian Invasion title. Showing no signs of slowing down, his latest victory was when he defeated legendary Japanese-South Korean MMA artist Yoshihiro Akiyama (aka Sexyama) in Shanghai, China, back in June; it was a feat, which earned him a 10-3 win-loss record on the MMA score board.
FROM HUMBLE BEGINNINGS
Life wasn't always a winning streak for Agilan. Growing up in Sentul, Kuala Lumpur, he was raised by his single father, a man Agilan describes as a loving parent and his greatest inspiration. Due to circumstances, the father-son duo had to share a one-bedroom apartment with two other uncles and an aunt. To make matters worse, young Agilan struggled with being overweight and getting bullied for it. Despite these tough beginnings, it wasn't long before his life took a turn for the better.
Agilan recalls, "I was 140 kg when I was 16 and I got bullied a lot. So, I watched a movie by Donnie Yen called S.P.L., which showcased a lot of jiu-jitsu. I did my research, joined a class for jiu-jitsu … the gym that I joined also had kick-boxing and MMA so that's how I got started."
Even though resources were scarce in the early days, Agilan's supportive father paid for his first few lessons. With a growing interest in the sport, the athlete decided to work as a cleaner in the Monarchy MMA gym to pay his own way. He continued to work and train at the gym for two and a half years. "Slowly, I started learning fights, and then they gave me a job as an instructor. After teaching for a while, I became a full-time athlete," Agilan shares.
OVERCOMING OBSTACLES
One of Agilan's first and perhaps greatest opponent, was obesity— it was a health condition he struggled with for a long time.To compete professionally, he had to shed the excess weight that was holding him down."The weight loss was a slow process. From age 16 to 17, I only lost 10 kg, and this was only with training, without diet. The next year, I had to go through an intensive diet to lose weight.If I were to compete, I couldn't compete as a heavyweight because of my height. The foreigners in the heavyweight category are much bigger and taller than I am. In that year, I lost 40 kg." Agilan now competes in the welterweight category. Since then, Agilan's career as an athlete only went upwards. He was undefeated as an amateur and won the Malaysian national championship before turning professional. When asked about his proudest achievement, he lists, "winning the Malaysia Invasion title, winning 10 bouts in ONE championship and taking part in the ONE Championship world title."
BLOOD, SWEAT AND TEARS
Of course, every success doesn't come without hard work and dedication. Agilan trains between 3 and 4 hours a day. "We mostly focus on intense training, weight lifting and active recovery."
The athlete has approximately three on-season training periods a year. "Usually, when I prepare for a bout for the ONE Championship, it takes 8 weeks to prepare. During those times, I'm really busy." When asked if his career interferes with his family life,he responds, "I don't have a very big family. There's only my dad, my girlfriend and my dogs. They're very understanding with what I do." He adds that he is still able to spend time with his loved ones when it's off-season time.
FEARS AND ADVICE
Agilan attributes a lot of his success to the gym he works with. "Where I train, the coaches and nutritionists help a lot. Although most gyms have weight-lifting machines, it's hard to get padded mats, padded walls, punching bags, experienced coaches, and grapplers who help me train."
One of the other things that Agilan feels has helped him the most in competition, is overcoming his fears. "When stepping into the ring, I do feel scared. I think it's human nature to be afraid of everything, but when I go into the ring, I push myself to go through it." Each match in Kuala Lumpur easily attracts 15,000 people in the audience. Regarding stage fright, Agilan says that it's not a concern, as when it comes to the competition, one must be most focused on the opponent.
In closing, Agilan leaves us with some advice for those who are interested in taking up MMA: "Find yourself a good gym, see what you're interested in and learnstep by step. You can start with striking or grappling, but it's best you find a good coach that can teach you the fundamentals."He adds that MMA can be taken up for fitness or as a hobby, and is suitable for a wide age group of people, "There's no age limit … it's good for keeping in shape, it's fun, you make friends, and it's better than going to the gym, putting on headphones and lifting weights all by yourself." 
GIRL POWER ALL THE WAY
WORDS HANNAH MAY-LEE WONG
It's no secret that Ann Osman is one tough cookie. In the MMA's fighting ring, Ann is known as "Athena", goddess of wisdom, handicraft and war. A legend in her own right, Ann prides herself as the first female Malaysian to sign with ONE Championship. But on the other spectrum, whenwe met Ann, she was radiating with the glow of pregnancy. We
could tell she was already excited for motherhood.
Given Ann's career and accolades, we couldn't help but ask her if she was still training. Without hesitation she declares, "I am! … you know there's this whole culture where pregnant women think that once you're pregnant you're supposed to just rest, but I don't see [pregnancy] as being handicapped. I have had clearance from my doctor, did some research and I find it's more encouraged for pregnant women to stay active."
She revealed that in her first trimester, she was actively doing boxing and jiu-jitsu. "In fact, I didn't know I was pregnant until the second month. Right up till then, I was still helping my friend train for competition by doing sparring with her."
 She continues, "As soon as I found out I was pregnant, I took precautions … I adjusted by speaking to my coaches and asking them how I could train safe. Now in my second trimester I focus a lot on maintaining my strength, because I think it's very important to stay strong for the baby—not only in the labour room but after giving birth. If I lose my fitness, I'll have to go back to square one which wouldn't benefit me or my baby."
ANN'S JOURNEY WITH MMA
Ann began training for the competitive sport in 2012 and was subsequently signed on to ONE Championship the following year. "I never had any martial arts background and I only got into it when I was in my mid-twenties. It was pretty late, but better late than never!"
"When I got into MMA, it wasn't as popular as it is today. There weren't a lot of women training, but it was something I really enjoyed." She explains,"Initially, I just wanted to learn self-defence and build my fitness. I was already working out in a gym; my coach was teaching Muay Thai to a bunch of guys. One day, I took the courage to step into that (Muay Thai class) even though there weren't any other girls there."
Incidentally, Ann's coach was one of the early few who was already practicing MMA. With a passion to grow the sport, Ann trained with the encouragement of her coach until she made her prodebut in 2013. She states that one of her most memorable fights was when she got her first win in Abu Dhabi. "It was against a two-time world boxing champion, Ana Julaton who was celebrated in the Philippines and America. For me to get my first win as a rookie against a world champ was a huge celebration for me."
KEEPING HEALTHY THROUGH PREGNANCY
These days, Ann focuses more on her role as an athlete relations and talent recruitment manager for ONE Championship. She also co-owns with her husband, a travel business based in her hometown, Kota Kinabalu. Although her last fight was back in 2017,Ann keeps a foot in the door by continuing her workouts and training.
On her workout routine, Ann says "Pre-pregnancy, I would train twice a day: strength conditioning in the morning and in the evenings, I would go to the gym to do drills and learn new techniques which are more skill focused."
As for working out during pregnancy, Ann elaborates, "Now, I only do one session a day in the gym. I would do cardio workouts like indoor cycling, boxing or strength training workouts [such as super sets, compound movements, modified burpees, modified mountain climbers and core workouts]. I alternate between upper, lower and full body workouts, but I try to cap it at 1 hour a day—being pregnant, I tend to get tired or out of breath."
ATHENA'S WORDS OF WISDOM
In closing, we asked Ann if she could give advice to other women out there who might be interested in taking up MMA or joining the ONE Championship. She responds, "The first thing [you must have] is a strong reason to why you want to stick to this. From there, you've got to find a network of support: get to a good gym, find a good coach because these people are the ones who are going to push you when you feel like you want to throw in the towel … MMA seems like a solo sport, as you go into the fight cage alone to face your opponent. But what most people don't see is behind that one person, is a huge team of people who supports him or her."
HE IS EVERY TING
WORDS LIM TECK CHOON
My apologies in advance to Ev Ting should he ever read this, but I was informed before the interview that he might be a little shy. Imagine my pleasant surprise, therefore, when the pro lightweight MMA star turned out to be a well-spoken, confident and even gregarious man with a sly wit about him.
When asked about his moniker 'The Extraterrestrial,' he pointed out that it came about because the acronym of his name is 'ET.' "It's also a reflection of the fact that I was an alien growing up in Auckland," he reflects.
AN EXTRATERRESTRIAL IN NEW ZEALAND
Ev Ting was born in Malaysia, but his family moved to Auckland, New Zealand, when he was just a boy. As a boy of Chinese ethnicity, he was immediately the odd one out among other children his age.
"I was always doing twice as much to prove myself," he said. This need to put himself beyond the limits imposed on him, saw him taking to sports like a fish to water. He recalled that he was good at football in school, but he soon found martial arts more to his liking, as it allowed him to test his mettle against different opponents.
He began training at a local gym in 2009. After making successful waves in the Auckland amateur circuit, he made his professional debut in 2011 as a cage fighter. When MMA Auckland finally noticed him, he had nowhere to go but up.
A WARRIOR'S JOURNEY
Contrary to some people's belief that MMA is a violent sport, Ev Ting asserted that, like every other form of competitive sport, MMA is built on a camaraderie of fair play and sportsmanship.
In fact, he credited MMA for shaping him to be the man he is today. As a kid driven to always prove himself, he found martial arts to be a positive outlet for his energy. Training helps him to focus, develop a healthy work ethic and build up discipline.
Furthermore, when he was younger, he had to juggle his training with three jobs and his education—this taught him the true meaning of commitment, passion and sacrifice. In the process, his confidence grew by leaps and bounds with each adversity he managed to overcome on his MMA journey.
Ultimately, he would like his story to be an inspiration, especially to people who feel that they are different from everyone else. He too was an outsider growing up in Auckland, and his Kiwi upbringing marks him as an outsider as well when he is in Malaysia for tournaments.
Ev Ting never lets being 'different' get to him. In fact, he believes that it's good to be a little different from everyone else, and we should never let our differences get in the way of pursuing our own dreams.
"I want to share the message to humans on planet Earth that there is always room for everyone to eat, have a harmonious life, grow, and prosper!" he says with a laugh. HT
THREE THINGS ABOUT EV TING            
He is inspired by the animal kingdom when he's in the ring. He watches documentaries on predators and draws his techniques from the way successful predators stalk and ambush their prey.
Ev Ting had been the underdog in many fights. The one fight he holds closest to his heart is when he was up against Iranian professional wrestler Kamal Shalorus in One Championship: Throne of Tigers back in 2017. Ev Ting was lighter and of smaller stature than Shalorus. Many told him that he should withdraw, but the Extraterrestrial never backed down from a challenge. He proceeded to stun the audience by emerging victorious. Go to https://youtu.be/dkmQSA6Yv5Q to watch the fight on YouTube.
Ev Ting would like to be in MMA for as long as possible, but he has also invested some funds in various start-up companies. While he's not in the same league as legendary entrepreneurs such as Bill Gates and Steve Jobs (yet), he is hoping to parlay his investments into something that he can fall back on in life after MMA. HT
If you like this article, do subscribe here.