WORDS LIM TECK CHOON
ARE YOU DISPOSING YOUR UNWANTED OR UNUSED MEDICINES CORRECTLY?
If you gather all these medications and dump them into the trash bin, you're not exactly doing it properly.
SO, HOW SHOULD YOU DO IT?
Well, the best way to dispose of unwanted or unused meds is to drop them off at a proper facility—a facility that is equipped to dispose of these medications in a manner that will not cause possible harm to other people as well as the environment.
HMM, WHERE IS THE NEAREST FACILITY TO DO THIS, THEN?
Well, as of the time of writing, there is a convenient drop-off point for all your unused and unwanted medications: the nearest CARiNG Pharmacy outlet.
This is made possible through the Do It Right programme, a collaboration between the Faculty of Pharmacy of Universiti Malaya and the pharmacy retail chain.
CARiNG Pharmacy outlets will operate as a drop-off point for these medications, which will then be transported to Kualiti Alam Incineration Centre for further processing and proper disposal.
"Unwanted medicines left at home are a safety issue. Over 10,205 people required hospitalization because of medicine poisonings across Malaysia. Unwanted medicines in homes pose a health hazard especially to children," Loo Jooi Leng, the Marketing Director of CARiNG Pharmacy, says to us in order to explain the rationale of this programme.
YES, YOU CAN NOW DROP OFF YOUR UNUSED & EXPIRED MEDS AT ANY CARiNG OUTLET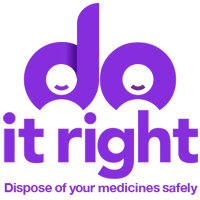 READ
Read the labels of the medicines in your cabinet and check which are expired and no longer needed.

REMOVE


Remove the expired or unwanted medicines from your cabinet and place them into a bag.

RETURN


Return the bag to any CARiNG Pharmacy near you and their staff will place it in a secure bin for safe disposal.
For more information on the Do It Right programme, you can visit their website (link opens in a new tab).