WORDS LIM TECK CHOON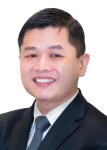 FEATURED EXPERT


DR HO KIM WAH
Consultant Haematologist and Transplant Physician
Sunway Medical Centre
BLOOD DONATION SAVES LIVES
Blood transports oxygen and nutrients to the cells in every nook and corner of your body and carries waste products away from these cells for elimination.
While this seems like a simple statement, its importance cannot be understated. Your body cannot function properly when there is not enough blood in your body to perform its life-sustaining function.
"That is why blood donation is extremely crucial, especially for those born with hereditary blood disorders or have contracted blood cancers that prevent their bone marrow from producing healthy blood cells naturally," says Dr Ho Kim Wah.
ARE THERE RISKS OF DONATING BLOOD?
According to Dr Ho, the risk of donating blood is fairly minimal as long as the donor fulfills the qualification to become a blood donor.
You can be a blood donor if you:
Meet the age criteria (between 17 and 60 years old).
Aren't fasting.
Are within your ideal body weight range.
Have had more than 5 hours of sleep before donating blood.
Are physically and mentally sound.
Have no chronic diseases.
There may be other criteria, but don't worry. You will be first examined by a medical officer to determine whether you are eligible to donate blood. You can also take the opportunity to ask the medical officer about any concerns you may have.
IS BLOOD DONATION A TAXING PROCEDURE?
Not particularly. The entire process of blood donation takes only about 30 minutes or so.
Dr Ho points out that after donating your blood, you will be advised to rest for at least 10 minutes.
You should have some light refreshments and to drink plenty of water in the meantime.
You should also avoid strenuous activities in the first 24 hours after blood donation, to avoid unpredictable fainting spells that can occur as a result of these activities.
"In any case, if you develop symptoms such as fever, chills, rigours, chest pain, sweatiness, itchiness, breathlessness, or any sense of uneasiness, you should notify the nurses or doctors immediately," advises Dr Ho.
NO, THESE WOULD NOT HAPPEN IF YOU DONATE YOUR BLOOD!
Reduce your lifespan. No, this won't happen.
Damage your internal organs. That's not true.
Contract infections. Stringent measures are taken to avoid this.
Have your blood discarded and hence wasted when the blood bank has too much blood stored. Any surplus in a blood bank is transported to areas that are in need of such blood.
1 BAG OF DONATED BLOOD WILL SAVE 3 LIVES
"Take a stand and save a life," Dr Ho urges.
To donate blood, you can visit the National Blood Centre at Jalan Tun Razak, Kuala Lumpur or the state hospital nearest to you. You can also keep an eye out for mobile blood donation programmes visiting your neighbourhood from time to time.