WORDS LIM TECK CHOON
On 15 June 2023, the second phase of the nationwide #GiveBack campaign was launched to promote responsible disposal of medical waste.
#GiveBack is a nationwide Environmental, Social and Governance (ESG) effort of GSK Malaysia in collaboration with pharmacy chains Alpro Pharmacy, AM PM Pharmacy, BIG Pharmacy, CARiNG Pharmacy Group, FirstCare Pharmacy, Health Lane Family Pharmacy, Mega Kulim Pharmacy, Park@city Pharmacy & Medical Supplies, Straits Pharmacy, and Sunway Multicare Pharmacy.
It is supported by the Malaysian Pharmacists Society (MPS).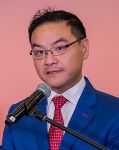 FEATURED EXPERT


DR JONATHAN PAN
Vice President and General Manager
GSK Malaysia & Brunei
Dr Jonathan Pan, the Vice President and General Manager of GSK Malaysia & Brunei, says. "Our #GiveBack campaign supports these goals by offering the Malaysian public a convenient way to dispose of their used inhalers and leftover medicine blister packs responsibly, lessening their impact to our environment."
In line with this goal, the campaign expanded its partnership with additional pharmacy partners and headthcare groups this year.
WHY #GIVEBACK IS IMPORTANT TO US
All around the world, healthcare systems contribute around 5.9 million tonnes of solid waste to landfills and over 4% of carbon emissions.
One significant issue is the disposal of pressurized asthma inhalers, as people often discard them before they are completely empty. As a result, the greenhouse gases in the propellants of these discarded inhalers are released into the environment, contributing to global warming.
Unfinished pills left in discarded blister packaging—the "packaging" of pills—can lead to leaching of chemicals into the ground or waterways, contaminating plants and animals and, eventually, people that consume these plants and animals.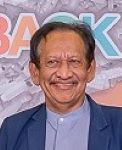 FEATURED EXPERT
PROFESSOR AMRAHI BUANG
President
Malaysian Pharmacists Society (MPS)
Professor Amrahi Buang, President of the Malaysian Pharmacists Society (MPS) further adds, "GSK's #GiveBack campaign is aligned with the Ministry of Health Malaysia's 'Returning Medicines' campaign, and we urge all Malaysians to support this effort by bringing their used or unfinished asthma inhalers and blister packs to any of the collection points for proper disposal."
MAKING AN ART OUT OF DISCARDED MEDICAL WASTE
During the launch, students from The Design School at Taylor's University unveiled a sculpted art made of discarded blister packs and asthma inhalers.
This art serves to highlight the importance of proper medical waste disposal and its impact on the environment, while also providing an opportunity for the next generation to get involved in environmental advocacy.
The installation will be displayed during the GSK #GiveBack Roving Truck roadshow at high-traffic venues across the Klang Valley, stoking greater awareness and increased interest in sustainability.
HOW YOU CAN #GIVEBACK TO MOTHER EARTH
Any time of the year
Drop off your used blister packs and asthma inhalers (make sure that they are empty) at any of the following pharmacy outlets:
Alpro Pharmacy
AM PM Pharmacy
BIG Pharmacy
CARiNG Pharmacy Group
FirstCare Pharmacy
Health Lane Family Pharmacy
Mega Kulim Pharmacy
Park@city Pharmacy & Medical Supplies
Straits Pharmacy
Sunway Multicare Pharmacy
17 to 26 June 2023
Drop them off at the #GiveBack Roving Truck roadshow.