WORDS LIM TECK CHOON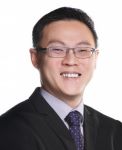 FEATURED EXPERT


DR FOONG CHEE CHOONG
Consultant Rehabilitation Medicine Specialist
Sunway Medical Centre Velocity
FIRST, LET'S TAKE A LOOK AT GAIT THERAPY
Gait therapy is a form of physical therapy to help improve one's ability to walk.
COMMON HEALTH ISSUES THAT LEAVE ONE WITH DIFFICULTIES IN WALKING
Stroke
Osteoarthritis
Cerebral palsy
Parkinson's disease
Joint replacement surgery
Lower limb paralysis
Multiple sclerosis
Traumatic brain injury
Muscle weakness due to long periods of inactivity or immobilization
Gait therapy is typically conducted by a rehabilitation medicine specialist together with a physiotherapist and assisting personnel such as nurses.
If the affected person needs counselling or experiences mental issues such as depression due to their inability to walk normally, a counselor or psychiatrist will also be involved.
INTRODUCING ROBOTIC-ASSISTED GAIT THERAPY
Consultant rehabilitation medicine specialist Dr Foong Chee Chong reveals that this technology has been around for the last decade or so, and it is increasingly adopted in Malaysia as part of gait therapy.
It's a bit like Tony Stark and the Iron Man suit!
Dr Foong shares that in robotic-assisted gait therapy, the robotic device used is a wearable robotic exoskeleton.
There are a few different types of robotic exoskeletons available, and the specific way each works may vary from other types.
However, they generally work in the following manner:
 There is a control panel, placed usually at the back of the exoskeleton, that allows the physiotherapist to adjust the settings to the level of assistance needed by the patient. Such adjustment is based on the patient's current abilities and needs.
The robotic exoskeleton is a lightweight frame that will be strapped onto the patient's torso and legs.
Once activated, the robotic exoskeleton will provide powered assistance to the patient's hips and knees, assisting the patient in performing walking and standing motions.
The entire session will be supervised closely by the physiotherapist and their assistant, who will always remain close to the patient.
Should the patient do something wrong, the robotic exoskeleton will emit a sound that will alert the supervising physiotherapist, so that they can tend to the patient and provide necessary advice and assistance.
What's the benefit of using a robotic exoskeleton?
Improved rehabilitation. Studies have found that robotic-assisted gait therapy can lead to clinically significant improvements in lower-limb movements among stroke survivors and people with spinal cord injuries, when compared to conventional gait therapy.
Shorter rehabilitation period. Dr Foong points out that, unlike the human eye, the robotic exoskeleton is more precise in detecting issues faced by the patient as they try to walk during gait therapy.
Furthermore, data from each session is tracked to allow the physiotherapist and rehabilitation medicine specialist to review the patient's progress and identity areas for improvement.
As a result, the patient's gait recovery from their robotic-assisted gait therapy is usually faster than those that do not use this technology.
Less resources are needed. Conventional gait therapy requires more personnel to assist the patient. For example, Dr Foong mentions that an assistant may be needed to support each of the patient's arms, while another will guide the movement of the patient's legs.
With the use of the robotic exoskeleton, fewer personnel are needed.
CAN I SIGN UP FOR ROBOTIC-ASSISTED GAIT THERAPY?
Dr Foong points out that a person will need to meet certain criteria to be considered for such therapy.
The person can sit upright and stand without experiencing dizziness and other issues. "They need to be able to do these actions at least 30 to 45 minutes without experiencing dizziness and other issues," Dr Fong explains.
The person's joints and bones are supple and strong enough to move without experiencing fractures. Dr Foong says that, typically, medical examination and muscle strength assessment will be conducted first to determine whether a patient is suitable to put on the robotic exoskeleton.
The person's mind is sharp enough. They need to have a sound mind and be able to follow instructions from the physiotherapist.
The person is within the stipulated height and weight limit. A robotic exoskeleton can only support a person up to a certain weight and is within the recommended height range.
For the Ekso machine, for example, it can fit patients under 100 kg and between 1.5 m and 1.9 m.
HOW LONG IS EACH SESSION?
"Each session is usually between 30 and 45 minutes," Dr Foong says.
The number of sessions is determined on a case-by-case basis.
WILL I BE ABLE TO WALK LIKE I USED TO?
"It will depend on a few factors," Dr Foong says.  "The most important factor is the severity of the stroke. However, majority of stroke survivors will regain some form of movement or ambulation after undergoing robotic rehabilitation."
He adds that one's walking ability typically declines over time due to age-related issues such as loss of muscle strength. Hence, it's possible that one may need to undergo periodic gait training to improve their walking ability.
Additionally, Dr Foong recommends staying active to ensure that the improvements developed after gait therapy will persist for as long as example. For example, one can go for walks around the neighbourhood in the evenings.
THIS IS THE FIRST PART OF THE SERIES LEARNING TO WALK AGAIN
Below are the articles in this series:
A Rehab Specialist Explains How a Robot Can Help You to Learn Safely & Successfully to Walk Again (this is the article you are reading now)