WORDS LIM TECK CHOON
On 5 September 2023, Siemens Healthineers hosted Creating a World Without Fear of Cancer: A Critical Dialogue, a panel discussion for local healthcare experts and leaders to share their thoughts on whether the world can indeed be free of fear of cancer within the next 25 years.
This may seem odd at the surface as cancer cases continue to rise—indeed, the number of cases in Malaysia is projected to double by 2040!
However, we are also seeing a rise in technological innovations that allow for more precise and earlier detection of cancer, as well as more effective forms of treatment through customized therapy that capitalizes on recent breakthroughs in genetics, immunotherapy, and more.
Hence, it is possible that, over the next 2 decades, we will see a shift from cancer as a 'death sentence' to a manageable long-term or chronic disease with higher survival rates. In other words, a world without fear of cancer.
We managed to get a front row seat at this panel discussion, and we're pleased to share the highlights with you.
WHO'S AT THE PANEL DISCUSSION?
Fabrice Leguet, Managing Director of Siemens Healthineers Southeast Asia
YB Dr Kelvin Yii, Special Advisor to the Health Minister
Serena Yong, CEO of Regency Specialist Hospital
Professor Ricky Sharma, Global Head of Clinical Affairs at Varian
Ranjit Kaur, former President and current board member of Reach to Recovery International (RRI)
HIGHLIGHTS OF THE PANEL DISCUSSION

FEATURED EXPERT


YB DR KELVIN YII LEE WUEN
Special Advisor to the Minister of Health
"The National Strategic Plan for Cancer Control aims to make cancer prevention, management, and control accessible and affordable through partnerships with stakeholders," says YB Dr Kelvin Yii. "The goal is to reduce the cancer burden, promote understanding of cancer, encourage prevention and early diagnosis to alleviate patient fears."
The backbone to this effort is the Public Private Partnerships (PPPs) that involve strategic partnerships between government and private hospitals.
Current, most of the medical innovations for cancer diagnosis and management are centred around private hospitals, thus putting them out of reach of many Malaysians, especially those in the B40 group.
Through PPP, efforts such as government hospital patients getting follow-up treatments at private hospitals can be made possible while still at a reasonable cost partly funded by the Ministry of Health Malaysia.
Dr Kelvin admits that funding is a significant challenge at the moment.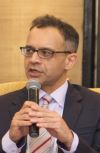 FEATURED EXPERT


PROFESSOR RICKY SHARMA
Global Head of Clinical Affairs
Varian Medical Systems
"Cancer is a disease that can evolve and mutate to evade treatments," Professor Ricky Sharma states. "The importance of patient data cannot be understated, as well as patient experiences of treatment from country to country."
He underscores the importance of using patient data to deliver a personalized patient experience. "It has to be from a holistic point of view," he elaborates. "We need to be asking important questions from the patients' perspective: 'Is treatment accessible? Are patients being treated with the respect they deserve? How and where are clinical decisions being made and the treatments being administered?'"
In light of the objectives set by the Ministry of Health Malaysia, such as the digitalization of all their healthcare facilities by 2030, Professor Ricky Sharma believes that this would allow for more accessible healthcare to people of all economic status, regardless of location.
For example, he cites the use of a virtual cockpit, which allows a healthcare professional to deploy customized treatment plans, analyze and provide results of imaging tests, etc to multiple hospitals without having to physically travel to those places. This would save time and improve productivity and efficiency.
Furthermore, digitalization of the medical workplace would allow for more flexible work hours for the staff, which is an effective way to reduce burnout. He and Ranjit Kaur bring out the fact that the medical profession has one of the highest suicide rates in the world, and this move to digitalization would help reduce the prevalence of burnout and mental issues that could help reduce such tragedy.

FEATURED EXPERT


FABRICE LEGUET
Managing Director
Siemens Healthineers Southeast Asia
Fabrice Leguet believes the next step in comprehensive cancer care will be to move beyond today's fragmented cancer care landscape towards a more integrated approach.
He cites the shift of cancer screening from tertiary hospitals to general practitioners' clinic as an example of such an approach. Having screening services available to clinics, especially at more rural areas of Malaysia, would go a long way in increasing the number of cancer cases detected at an early stage and, hence, the chances of better treatment outcomes and fewer deaths.
"By partnering with healthcare providers, we accelerate the transfer of knowledge in oncology across clinical, technical and managerial fields and fast-track the adoption of integrated innovative technologies across the continuum of cancer care," he says.
"While we leverage our access to global best practices and the latest technological innovations, we take a 'fit for purpose' approach, where solutions are adapted to the local context in close collaboration with our partners in the region," he adds.
He further says, "Every strategic partnership, every technological innovation, and every collaboration with policy makers will bring us one step closer to creating a world without fear of cancer."

FEATURED EXPERT


SERENA YONG
Chief Executive Officer
Regency Specialist Hospital
Serena Yong shares that the private medical healthcare sector welcomes the partnership with the Ministry of Health via PPP programmes.
"By integrating insights from different fields, we can achieve more diverse and effective outcomes," she states.
"Patient well-being at the heart of our mission," she goes on to add, "so this partnership expedites the integration of connected health solutions, ensuring swifter access to care. Moreover, it facilitates the expansion of teleconsultation services and the implementation of predictive analytics on a broader scale, ultimately contributing significantly to our patients' journey toward improved health outcomes."

FEATURED EXPERT


RANJIT KAUR
Former President and Current Board Member
Reach to Recovery International (RRI)
In spite of technological advances, Ranjit Kaur reiterates the importance of community support and holistic approaches that emphasizes the patient's emotional well-being alongside their medical treatments.
"In a world where technology drives improvement in various aspects of our lives, we must also prioritize empathy, timely care access and comprehensive support systems for patients, not only in Malaysia but worldwide," she says. "Each patient journey is often daunting and worrisome, but by paying greater attention to these details, we can help individuals look beyond their diagnosis and find confidence in their ability to overcome cancer."
Given that the oncologists in Malaysia are still concentrated in urban areas such as the Klang Valley, Ranjit highlights the efforts of the Ministry of Women, Family and Community Development to provide very affordable lodging for families that have to travel to these urban areas for a family member's cancer treatments. She calls for the Malaysian government to look into providing more similar assistance and services to enable Malaysians from outside of urban areas that are traveling long distances for cancer treatments.
She and YB Dr Kelvin Yii agree that the government of Malaysia should prioritize the Ministry of Health in the yearly budget. Ideally, the Ministry of Health should be getting the most, if not the lion's share of, the annual budget to allow PPP programmes to make healthcare treatments, especially for cancer, accessible to all Malaysians regardless of race, gender, and socioeconomic status.