WORDS DR GOH ENG HONG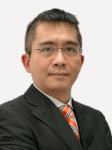 FEATURED EXPERT


DR GOH ENG HONG
Consultant Urologist
Prince Court Medical Centre
BENIGN PROSTATIC HYPERPLASIA (COMMONLY ABBREVIATED AS BPH) IS A NON-CANCEROUS ENLARGEMENT OF THE PROSTATE GLAND COMMONLY OBSERVED IN OLDER MEN
This condition has become more common due to several factors including:
Changes in men's attitude towards their health and well-being. These changes in attitude led to them seeking medical advice more proactively.
Advancements in healthcare have led to a longer lifespan seen among men. Because of this, there is an increase in the number of elderly individuals and consequently has a rise in the incidence of benign prostatic hyperplasia.
By the age of 50, about 50% of men experience prostate enlargement, and this figure rises to about 80% by the age of 80.
This highlights a significant correlation between age and the prevalence of benign prostatic hyperplasia.
COMMON SYMPTOMS OF BENIGN PROSTATIC HYPERPLASIA
Seek medical attention when you experience any of these symptoms over a long period of time or when they interfere with your daily routines.
Frequent trips to the restroom
A need to wake up from sleep to urinate (nocturia)
Weak urine flow
Painful urination
Blood in the urine
A feeling of incomplete bladder emptying
Symptoms of more advanced stages of benign prostatic hyperplasia can include high fever and/or an inability to urinate.
SYMPTOMS OF BENIGN PROSTATIC HYPERPLASIA CAN WORSEN OVER TIME
This is especially true as individuals age and potentially encounter other health problems that can worsen their prostate issues, such as diabetes and stroke.
However, if one's underlying health issues are well-managed and infections are treated effectively, there is potential for improvement in the prostate condition.
AVAILABLE TREATMENT OPTIONS FOR BENIGN PROSTATIC HYPERPLASIA
Treatment involves a comprehensive approach for managing any underlying conditions and considering the extent of the enlargement and its impact on the patient.
If the prostate enlargement is minimal, usually we will monitor for the time being for any further enlargement.
However, if symptoms cause significant discomfort, the doctor will prescribe the appropriate medications to manage these symptoms.
If medications are not effective, we can consider surgery. There are several surgical options to consider, depending on individual circumstances and preferences.
LIFESTYLE & SELF-CARE MEASURES TO MANAGE THE SYMPTOMS OF BENIGN PROSTATIC HYPERPLASIA
Adopt a lifestyle regimen that includes reducing the intake of irritants like caffeinated beverages—these irritants can increase the urge to urinate.
Reduce consumption of liquids and foods high in water content during the evenings, to help avoid nighttime bathroom visits.
Maintain proper hygiene to prevent infections, especially since prostate enlargement increases one's risk of infection.
TIPS TO REDUCE ONE'S RISK OF BENIGN PROSTATIC HYPERPLASIA
Benign prostatic hyperplasia is associated with ageing. Good habits as above could prevent worsening of the condition.
Additionally, one should seek regular medical check-ups, such as blood and urine tests, to monitor kidney function and identify potential infections early.