WORDS GURSHARON KAUR GILL
FEATURED EXPERT
GURSHARON KAUR GILL
Dietitian
With Deepavali being around the corner, the thought of delicious, mouth watering dishes comes to mind for most Malaysians.
Be it the sweet delicacies or the main dishes, festive food is known to be a crowd favourite. It is during festive seasons, that most people let go of their healthy eating habits and indulge in more than their usual food portion. Because, who doesn't love their mutton curry, chicken varuval or pineapple tarts?
However, the brunt of all the overindulging comes about after the festive season. You might start seeing some extra pounds in your weight and perhaps even spikes in your blood sugar level from all that over indulging. So, why not make your festive season this time a little healthier by following some of my simple tips below.
Tip 1
PREPARE YOUR OWN DISHES & SWEETS
This allows you to modify the recipe to make it a healthier version, such as by reducing the amount of ghee or oil used in the original recipe.
Alternatively, you may also switch from ghee, which contains high amount of saturated fats, to vegetable oil, which contains unsaturated fats and is hence more friendly for your heart health.
You can also reduce the amount of sugar or condensed milk by half from the original recipe for the sweet items. This method helps to reduce the overall calorie of the food items.
Tip 2
PRACTICE PORTION CONTROL
While it can be hard to resist the mouth watering festive food, it is still important to practice portion control.
When it comes to your favourite festive food like jalebi, kesari, pineapple tarts or muruku, practice sharing these food items with family or friends.
You can also practice portion control by limiting to only 1-2 pieces of these food items onto your plate, so that you avoid over indulging, more so if you have multiple houses to visit!
Another trick is to avoid eating cookies straight out of the cookie jars, as this usually causes one to lose track of how much they have eaten.
Tip 3
KEEP AWAY FROM SUGARY DRINKS
Sugary drinks like cordials or packet drinks are commonly served at open houses. However, these drinks are just loaded with sugar without providing your body with any nutrients.
Hence, it is advisable to limit your intake of sugar sweetened beverages to no more than 1 to 2 servings per day.
It is very easy to over consume these sugary drinks as you go about visiting from one house to the other or even while catching up with family and friends. Hence, for those hosting open houses this year, some healthier options to consider would be lower-calorie drinks. Great examples that are also simple to prepare are:
Ginger lemonade, with half the sugar from the original recipe
Infused water; you can always replace plain water with sparkling water for that extra fizziness in the drink
And for those visiting, if there is no other option of lower-calorie drinks, opt for plain water!
Tip 4
EAT MINDFULLY
Mindful eating helps you to listen to your body for hunger and satiety cues. This is important as it prevents you from mindless eating that adds up to your daily calorie intake.
Over-indulging is common, especially if you are busy catching up with family and friends, and unknowingly end up eating more than you need to. Hence, check in with yourself to identify your hunger and satiety cues is helpful.
Always remember to stop eating before you feel full, as your brain takes 20-30 minutes to register the feeling of fullness.
Tip 5
APPLY THE MALAYSIAN HEALTHY PLATE PRINCIPLES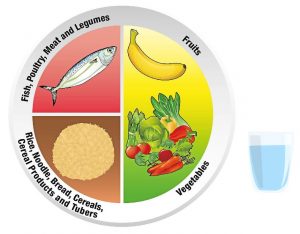 It is always back to basics when it comes to eating healthily during festive season. The Malaysian Healthy Plate concept encourages the suku-suku-separuh (quarter-quarter-half) method, which helps to ensure a balanced meal with less sugar, salt and fat intake.
This concept simply means filling:
¼ of your plate with grains (preferably whole grains)
¼ of your plate with low fat protein sources (chicken, fish, mutton, eggs, prawns)
½ of your plate with vegetables
HOW YOU CAN PRACTICE THE HEALTHY PLATE CONCEPT DURING DEEPAVALI 
Example 1
Grains: Idli (2 small pieces)
Protein sources: Chicken varuval (1 palm-sized lean chicken)
Vegetables: Stir-fried cabbage with turmeric (2 handfuls of veggies)
Example 2
Grains: Thosai (1 piece)
Protein sources: Mutton Curry (4 matchbox-sized pieces of lean mutton)
Vegetables: Stir-fried bhindi masala (2 handfuls of veggies)
Example 3
Grains: Jeera rice (2 to 3 flat rice scoops)
Protein sources: Chicken peratal (1 palm-sized lean chicken)
Vegetables: Stir-fried bittergourd with turmeric (2 handfuls of veggies)
The bottom line is, you can definitely enjoy the festive food that usually comes about only once a year. However, the key is to practice moderation when consuming them. That way, you get to enjoy the good food and yet not have to deal with untoward health problems after the festive season is over!