WORDS LIM TECK CHOON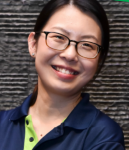 FEATURED EXPERT
DR CHAN YANJUN
Medical Director
International SOS
HEAT WAVE AT A GLACE
The official definition of a heat wave in Malaysia is a period when the daily maximum temperature is higher than 37ºC for 3 consecutive days.
As of 12 May 2023, the Ministry of Health has recorded a total of 14 cases of heat-related illnesses such as heat stroke (4 cases), heat exhaustion (4 cases) and heat cramps (6 cases).
The Ministry expects the number of such cases to increase until August 2023!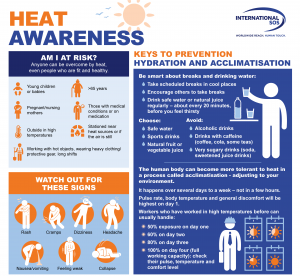 Dr Chan Yanjun tells us: "Heat waves can lead to heat exhaustion and heatstroke, which can have severe consequences on health. It is crucial to prioritize personal well-being and take necessary precautions to prevent heat-related illnesses."
COMMON HEAT-RELATED ILLNESSES
Heat stroke occurs when your body overheats—your body temperature goes over 40ºC—and it can quickly damage your brain, heart, kidneys, and muscles if you didn't receive prompt treatment. This is considered a medical emergency.
Heat exhaustion is the result of excessive sweating in high temperatures, which leads to enormous amount of loss of water and salt. Symptoms include heavy sweating, dizziness, thirst, decreased urine output nausea, and vomiting. Without prompt medical attention, this can lead to heatstroke.
Heat cramps occur in your muscles due to depletion of water and salt as a result of excessive sweating.  These cramps, which can be painful, usually occur in muscles of the calves, thighs, and shoulders.
DR CHAN'S 5 TIPS TO STAY HEALTHY & COMFY DURING A HEAT WAVE
TIP 1: STAY HYDRATED
Drink plenty of fluids, especially water, regularly (about every 20 minutes) even before you feel thirsty.
Avoid excessive consumption of caffeine, alcohol, and very sugary drinks, as they can contribute to dehydration.
TIP 2: DRESS APPROPRIATELY
Wear loose-fitting, lightweight, and light-coloured clothing to allow your body to breathe and stay cool.
Protect your head and face with a hat and use sunscreen to prevent sunburn.
TIP 3: SEEK SHADE
Avoid direct exposure to the sun, particularly during peak heat hours.
If possible, stay indoors or find shaded areas when the sun is at its strongest, typically between 10 am and 4 pm.
TIP 4: TAKE REGULAR BREAKS
If engaging in outdoor activities, schedule frequent breaks to rest and cool down in shaded areas.
Listen to your body and do not overexert yourself.
TIP 5: MONITOR HIGH-RISK INDIVIDUALS
Keep a close eye on children, elderly individuals, and those with pre-existing medical conditions, as they are more susceptible to heat-related illnesses.
Ensure they have access to cool environments and sufficient hydration.