WORDS LIM TECK CHOON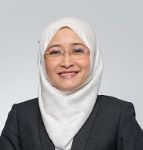 FEATURED EXPERT
DR HAFIZAH ZAHARAH AHMAD
Consultant Clinical Oncologist
Sunway Medical Centre Velocity
IMMUNOTHERAPY IS A NEWER APPROACH TO TREAT CANCER, BUT WHAT EXACTLY IS IT?
According to Dr Hafizah Zaharah, immunotherapy is a pretty unique way to treat cancer, in that it uses the body's own immune system to attack cancer cells.
"The immune system is like the police force of our bodies," she says. "It is designed to protect the body against infections, illnesses, and diseases."
When it comes to faulty or mutated cells in our body, the immune system identifies and eliminates these cells before these cells become a significant threat to our healty.
However, the cells of our immune system may not be strong enough to kill cancer cells, according to Dr Hafizah. Sometimes, the cancer cells are able to fool our immune system by resembling normal cells or hiding themselves.
THIS IS WHERE IMMUNOTHERAPY COMES INTO THE PICTURE
"Immunotherapy can boost or change how the immune system works, so it can recognize and kill cancer cells," explains Dr Hafizah.
For example, cancer cells originate from normal cells, so the immune system may still mistake them for normal cells.
"These cancer cells can push a 'brake' button on the immune cells, so the immune system would not attack them," Dr Hafizah adds.
Now, a type of immunotherapy called checkpoint inhibitors can take the 'brakes' off the immune system, allowing it to now recognize and attack the cancer cells!
There are other types of immunotherapy, of course, and these treatments can be used for various cancers.
CANCERS THAT CAN RESPOND TO IMMUNOTHERAPY
Non-small cell lung cancer
Triple negative breast cancer
Head and neck cancer
Cervical cancer
Gastric cancer
Oesophageal cancer
Bladder cancer
Melanoma
Liver cancer
Renal cell carcinoma
Endometrial cancer
Colon cancer
WHAT IS IMMUNOTHERAPY LIKE?
According to Dr Hafizah, various immunotherapy agents are given as an infusion into a vein (a drip) typically once every few weeks.
These immunotherapy agents can be given to the patient all by itself, or in combination with targeted therapy or chemotherapy.
"For advanced stage cancer, immunotherapy treatment generally is given for 2 years, alongside close monitoring," Dr Hafizah further says.
IS IT EFFECTIVE, THOUGH?
Although immunotherapy seems like the answer every person with cancer is looking for, Dr Hafizah warns that not all types of cancers will respond well to the treatment.
This is why, before embarking on immunotherapy, one will first undergo a specific biomarker test, such as the PD-L1 test, which will be carried out on a cancer specimen to ensure that the person will respond to the treatment.
ARE THERE ANY SIDE EFFECTS TO BE CONCERNED ABOUT?
"Generally, the treatment is well tolerated," Dr Hafizah assures us.
However, just like with most types of treatments, side effects are possible. These include:
Feeling tired, skin rash, or muscle or joint pain
Rare side effects include allergic reactions such as dizziness, fast heart rate, face swelling, or breathing problems
Autoimmune reactions, which can lead to serious problems in the lungs, intestines, liver, hormone-making glands, kidneys, skin, etc