WORDS DR LOW LEE LEE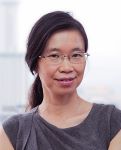 FEATURED EXPERT
DR LOW LEE LEE
Infectious Disease Physician
Sultanah Bahiyah Hospital
FUNGI: OUR FRIENDS & FOES (IT'S COMPLICATED)
Fungi are found naturally in our environment. There are many different types of fungi, over 2 million species however about 600 fungi have caused diseases.
Invasive fungal infections typically manifest as a severe and aggressive form of the disease, leading to corresponding to high prevalence and death rates if left untreated.
These infections include invasive mold infections.
INVASIVE MOLD INFECTIONS AT A GLANCE
Usually caused by Aspergillus (giving rise to invasive aspergillosis) but can also be caused by other rarer molds such as Mucormycetes (giving rise to mucormycosis).
These molds produce spores; most of us encounter these spores every day without getting ill, but people with compromised immune systems may develop complications as a result of these spores.
Despite invasive aspergillosis and mucormycosis being relatively uncommon, invasive mold infections are often life threatening. If left untreated, the mortality rates can reach 100%!
Various parts of the world reported superinfections of invasive aspergillosis and mucormycosis in patients with COVID-19, which are associated with increased risk of death. COVID-19 likely increases the risk for fungal infections because it weakens the immune system or due to certain therapies used for treatment such as steroids.
There are no specific symptoms, as symptoms can vary depending on the type of infection. This makes diagnosis an infection a challenging and sometimes complicated task!
Invasive Aspergillosis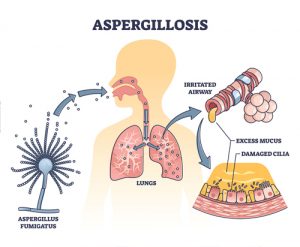 Invasive aspergillosis is uncommon and occurs primarily in immunocompromised people.
Commonly seen in people that have undergone stem cell and other organ transplants (especially lung transplant), as well as in patients with blood-related cancers such as acute leukemia.
Typically affects the lungs, but it can also spread to other parts of the body.
Mucormycosis
Mucormycosis is rare and estimated to affect approximately 10,000 cases worldwide, barring India. If India is included the numbers rise to 910,000 cases annually!
Typically occurs in the sinuses of the nose or lungs; however it can spread to the brain and other organs as well.
COMMON SYMPTOMS OF A POSSIBLE INVASIVE MOLD INFECTION
Typical pneumonia symptoms including fever, chest pain, cough, coughing up blood, and shortness of breath
Sinus infection, which may be painful
Pain, tenderness, swelling and pressure around the eyes, cheeks, nose or forehead
One-sided facial swelling
Headaches
Nasal or sinus congestion
Black lesions on nasal bridge
HOW TO REDUCE YOUR RISK OF AN INVASIVE MOLD INFECTION
When performing activities that involve close contact with soil and dust, such as yard work or gardening, take care to wear shoes, long pants, and long-sleeved shirts
Whenever possible, avoid dusty areas like construction or excavation sites; wear a N95 mask when you have to visit these areas
Keep your house dry and mold-free
Avoid staying in a moldy home (even while it is being cleaned)