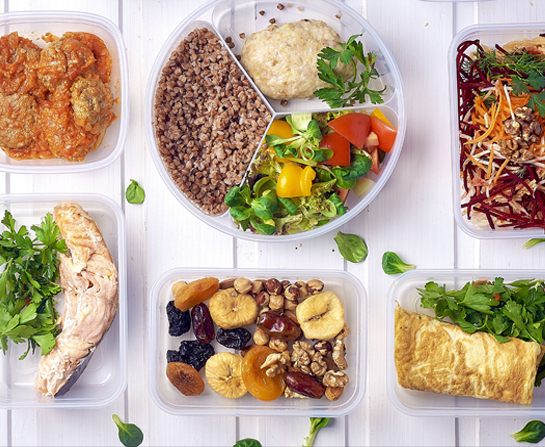 AUTHORS: PRAMILA MANI MARAN AND DR NURUL HUDA RAZALLI
With the enforcement of Movement Control Order (MCO) during the COVID-19 pandemic, many of us have been living by ourselves, away from families and relatives for months and even a year.
During this period, many people especially college students who are living away from homes have developed unhealthy eating behaviors among them. Usually for those who live alone, their diets are high in sugar, salt, preservatives and fats. The existence of food deliveries makes it easier than ever to obtain unhealthy foods.
Many also tend to feel greater amounts of emotional stress due to lifestyle changes imposed by the MCO, which can further propagate unhealthy eating habits.
Given the prolonged nature of the MCO, such unhealthy eating habits may increase one's risk of health complications such as obesity, diabetes, cardiovascular diseases and weakened immune system.
TIP 1
PRACTICE THE QUARTER-QUARTER-HALF CONCEPT
The concept of quarter-quarter-half or "'suku-suku-separah' is a simple way to visualize the proper portions of food on a plate.
A quarter of the plate is for carbohydrates (rice, fried mee, etc), while another quarter for protein (poultry, fish, legumes, etc). The remaining half of the plate should be filled with vegetables and fruits.
Follow this simple principle to ensure that every meal contains all necessary nutrients, regardless of whether the meal is cooked at home or bought from the outside.
TIP 2
PLAN MEALS IN ADVANCE
It can be hard to decide what to eat at the spur of the moment when one is demotivated or stressed. Hence, preparing a weekly meal plan in advance allows for proper coordination of meals even when one is feeling the blues.
Once a weekly meal plan is done up, it is a simple matter of preparing a list of necessary ingredients for that week and purchasing what is needed in a single shopping trip.  
Need ideas for a meal plan? Look up ideas and recipes from the Internet or YouTube. Remember, each meal doesn't have to be fancy or sophisticated—just keep it simple, delicious, and healthy.
TIP 3
COOK IN BULK!
Cooking in bulk can be a huge time- and energy-saver for those occupied with work or studies, especially when working or studying from home sometimes sees one stuck at the desk far longer than a usual work or study day!
For example, try cooking a few days' worth of food and allocate the food into meals throughout next few days. Cooked dishes can be stored in containers and placed in the freezer until needed.
This reduces future meal preparations into a simple matter of taking some time to thaw and heat up the food. Saves time, saves electricity!
BONUS TIP
Keep an eye out on leftovers. Some of them can be saved up for later uses such as to make delicious stews, stir-fries, or salads.
Pramila Mani Maran is a Student of Master's Clinical Nutrition at Universiti Kebangsaan Malaysia, and Dr Nurul Huda Razalli is a Dietetics Lecturer in the same university.
References: