WORDS DR ZETHY HANUM MOHAMED KASSIM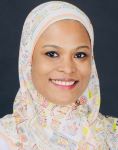 FEATURED EXPERT


DR ZETHY HANUM MOHAMED KASSIM
Senior Lecturer and Prosthodontist
Faculty of Dentistry
Universiti Teknologi MARA (UiTM)
The health of your teeth and their supporting structures can be compromised by decay.
Indeed, tooth decay affects an estimated 2 billion adults and 514 million children worldwide, while gum disease affects 19% of the world population.
The following are answers to some common questions commonly received by dentists, related to the maintenance of healthy teeth and gums.
WHAT ARE THE CAUSES OF DENTAL DISEASES?
The main culprit is plaque.
Plaque is a sticky white substance found on the surface of a tooth. It contains bacteria, proteins, bacterial by-products, and food debris.
Tooth decay
Bacteria in plaque ferment sugar into lactic acid, the latter can cause the tooth to lose important protective minerals via a process called demineralization. Over time, this process will lead to tooth decay.
Gum disease
The presence of bacterial products can also trigger an overt response from your immune system. This could result in gum disease that, if left untreated, will eventually cause the destruction of the ligaments and bony socket that keep the affected tooth in place.
Tooth loss
Over time, when left untreated, both gum disease and tooth decay can lead to the loss of teeth.
WHY IS TOOTHBRUSHING IMPORTANT?
The act of brushing your teeth can disrupt plaque that is present on the surfaces of your teeth.
This will thus help to prevent tooth decay and gum disease.
HOW OFTEN SHOULD I BRUSH MY TEETH?
Currently, evidence suggests that how often you brush your teeth does not greatly affect your chances of developing tooth decay.
However, it is commonly accepted that you should brush your teeth at least twice a day—after meals and before going to bed.
SHOULD I USE A MANUAL TOOTHBRUSH OR A POWERED TOOTHBRUSH?
Both can be used, but research found that powered toothbrush—also known as electric toothbrush—is more effective in removing plaque (65% compared to 41% using a manual toothbrush).
HOW LONG SHOULD I BRUSH MY TEETH?
2 minutes is the recommended duration for effective plaque removal.
HOW SHOULD I BRUSH MY TEETH?
Use the modified Bass technique. Click on the image below for a larger, clearer version.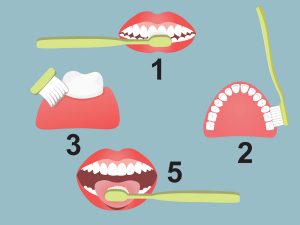 Angle your toothbrush at 45° to your gum margin.
Brush gently using a short circular scrubbing motion.
Sweep your toothbrush toward the occlusion surface of the teeth.
Do steps 2 and 3 for the top, outer, and inner surfaces of all your teeth.
Clean your tongue as well in the same short circular scrubbing motion.
Compared to the horizontal scrub method—you drag the toothbrush across your teeth in a horizontal right and left manner—this is a preferred method for effective plaque removal while reducing the incidence of gum recession.
HOW DO I CHOOSE MY TOOTHBRUSH?
Evidence points to toothbrushes with angled bristle tufts being more effective when compared to flat-trimmed or multi-level bristles.
The stiffness of the toothbrush bristles can affect the effectiveness of plaque removal. However, stiffer bristles may lead to more gum recession overtime. Therefore, most dentists would recommend the use of toothbrushes with soft bristles.
SHOULD I PRACTICE INTERDENTAL CLEANING?
Interdental cleaning refers to the cleaning of the areas between the teeth to remove food particles and plaque that are 'caught' in those areas.
Toothbrushing alone cannot reach those areas, hence interdental cleaning aids have been introduced for such a purpose.
Interdental cleaning aids
Evidence suggests that the use of interdental toothbrushes and flosses leads to more consistent plaque removal and a reduction in gum inflammation, compared to the use of oral irrigators and wooden or rubber sticks.
When it comes to gaps between teeth, the use of interdental toothbrushes, which are available in various sizes, would be more effective compared to floss.
HOW DO I CHOOSE MY TOOTHPASTE?
Toothpaste must contain fluoride with a minimum of 1,000 parts per million (PPM).
Fluoride helps to mineralize teeth, which is important to help prevent tooth decay.
This substance is usually present in toothpastes in the form of sodium fluoride and sodium monoflourophosphate, so if you are unsure, you can check the package of the toothpaste for the presence of these active ingredients.
OTHER BENEFICIAL ACTIVE INGREDIENTS TO LOOK OUT FOR IN A TOOTHPASTE
Stannous fluoride, effective for the reduction of gum disease.
Nano-hydroxyapatite and arginine to help reduce dentine hypersensitivity.
Hydrogen peroxide and blue covarin colorant produce the best tooth whitening with continued use.
Abrasives such as silica, alumina, and calcium carbonate to remove stains. Those with a value below a unit of 250 radioactive dentine abrasion (RDA) are considered safe to prevent progressive tooth surface abrasion.
HOW MUCH TOOTHPASTE SHOULD I USE?
When using regular strength fluoride toothpaste (1,350 to 1,500 PPM), a pea-sized amount is recommended for all individuals and children aged 2 years and above.
A smear is recommended for children under the age of 2, as these children are more likely to swallow their toothpaste—something that can increase their risk of developing mottled teeth or fluorosis.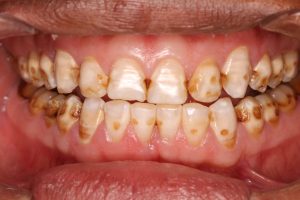 SHOULD I USE MOUTH RINSES?
Mouth rinses may be useful to increase the availability of fluoride for individuals 8 years and older who experience difficulties in brushing their teeth. For example, children that wear braces.
Mouth rinses with active ingredients such as chlorhexidine, acetyl pyridinium chloride, and essential oils may be useful to prevent gum disease.
To improve their effectiveness, mouth rinses should be used at different times from toothbrushing.